What is an Orthoptist and How Can They Help With Eye Problems?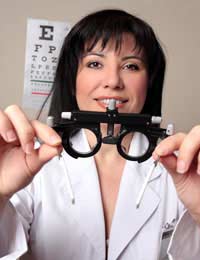 An orthoptist is a member of a team of eye care specialists whose role involves the diagnosis, treatment and assessing potential problems of the eye.
What Is Their Role Exactly?
An orthoptist has a varied role and often this includes all or just some of the following: vision assessments, referral management from GP's, community workers or hospitals, planning treatment regimes, diagnosing clinical problems and treating or referring to other agencies as necessary and also to liaise with other parts of the team or outside agencies to ensure that the patient receives high quality care and appropriate treatments options.
As many orthoptist see younger patients and are involved in screening and monitoring they will often see certain patients regularly and can build some very good relationships with patients and also (concerning their eye problem), support the child as he or she grows and reaches adulthood.
As they are a functioning member of the multidisciplinary team they must possess excellent communication skills, be able to communicate with patients of a variety of ages and cultural backgrounds and also be prepared to teach students and guide them through the clinical part of their training.An orthoptist may work within the NHS, for private clinics, in schools, colleges, universities or often a variety of these places.
What Types Of Eye Problems Does An Orthoptist Diagnose Or Treat?
There are many types of eye conditions that an orthoptist might assess or treat and these include squints, amblyopia (lazy eye), glaucoma, cataract and conditions concerning eye movements.Their case load is very varied with patients being of all ages and backgrounds.
They frequently work with children as this age group are the most likely to suffer from conditions such as lazy eye, which can now be treated very effectively if diagnosed at an early age.
How Might They Help Treat Eye Problems?
As an orthoptist may see the patients before a disease or condition has occurred they are able to detect potential problems before the person begins to suffer from problems with their vision. Often orthoptists see children and screen them for possible problems which means they can be treated before any conditions can develop.
They also assess existing problems and refer to the most suitable agency that will be able to treat the problem effectively making sure the patient is well informed, fully understanding and comfortable with their diagnosis and treatment plan.
An orthoptist is a valued member of the clinical team and responsibilities are very varied. Assessment of patients may involve the use of highly specialised and technical equipment, recommending exercises or lenses for the patient, referring the patient to another specialist, planning treatment regimes and also evaluating the effectiveness of treatment.
They must posses good communication skills and be able to comfortably with people of all ages.They are extremely important in eye and vision care as they are central to the diagnosis and treatment of many eye problems which otherwise might go undetected or left untreated allowing them to worsen or seriously affect the patients quality of life.
You might also like...