Why Go to the Optician?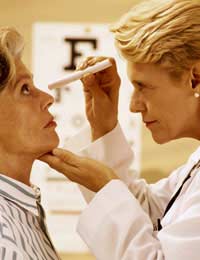 At times you've probably wondered what it must be like to be blind or partially sighted, and it's a scary thought. Your eyes are the vital instruments that supply your brain with the information that's needed to control your responses, to absorb information and to make judgements and decisions based on what you see. Even if you don't wear glasses, having your eyes examined regularly by a qualified optician will ensure that any abnormalities that might eventually have a serious effect on your vision are detected. Early treatment of diseases such as glaucoma has the greatest chance of success.
Do You Need Glasses?
Many people seem to muddle along in the (occasionally justifiable) belief that their eyesight is fine. For example, although you may be able to read a licence plate at the prescribed distance, you should be safe enough on the roads (sight-wise, anyway) but you could possibly still benefit from a minor correction. There are four common conditions under which you may need corrective glasses:
Long sightedness (hypermetropia). You can focus on distant objects more easily than on close objects.
Short sightedness (myopia). Unsurprisingly, this is the opposite of long sightedness, enabling you to focus more easily on near objects.
Astigmatism. This is a condition, often present in addition to long- and short-sightedness, in which your eyeball is shaped more like a rugby-ball (toroidal) than a perfect sphere. A correcting lens will be more powerful in one direction, than in the direction that is perpendicular to it.
Presbyopia. The ageing process reduces the eye's ability to "accommodate" for focussing on near objects. Even if you have perfect distance vision you are likely to need glasses for reading by the time you are 50.
If you are aged between 16 and 45, there's a good chance that you won't need glasses, or at least you won't have to wear them all the time. Nevertheless, you should have a sight test every couple of years to make sure that your eyes stay healthy.
About Your Optician
Sight-testing (ophthalmic) opticians are known nowadays as optometrists. Your optometrist is usually educated to degree level. In addition to testing your sight and prescribing glasses if necessary, he or she has can recognise abnormalities in the eye. Certain groups that need particular attention are:
Children under 16
Over 60s
Diabetics
Close relatives of glaucoma sufferers
This is reflected by the NHS provision for free sight tests for people in these groups.
If you are prescribed glasses it's possible that you will be seen by a qualified dispensing optician, although today it's more likely to be a 'dispenser' who has adequate training for straightforward prescriptions. Certain groups though, such as children under 16 and people that need safety glasses remain in the domain of the dispensing optician.
The Technology and Skills Used in Your Eye Test
Modern technologies allow vital diagnostic tests to be carried out, such as measuring the pressure inside your eye, determining the extent of your field of vision, photographing the inside of your eye and even quite accurately estimating your likely spectacle prescription! Having data such as these, the optometrist can detect conditions such as:
Glaucoma - increased pressure inside the eye
Retinopathy - a degenerative condition of the retina
Macular Degeneration - usually an age-related disease that leads to the loss of central vision
Cataracts - aging of the lens in your eye which causes "misting" and gradually, opacity
Colour blindness
If Your Optometrist Finds a Problem
Optometrists don't usually treat pathological conditions. For these you need specialist treatment. In the first place you may have been referred to the optometrist by your doctor. Depending on the findings, the optometrist may write to your doctor or refer you to the hospital eye department for further investigation and treatment. In most cases, diagnosis of problems at an early stage greatly enhances your chance of successful treatment which, if not forthcoming could ultimately result in blindness or serious visual impairment.
Don't Delay Your Sight Test
The next time you reach for a pair of "Ready Readers" (which, incidentally, are never correct for astigmatism) costing just a couple of pounds from the corner shop, ask yourself a few questions, including:
When, if ever, was my last professional eye examination?
Can I honestly meet the required visual standards for driving?
Do I have any relatives that suffer from glaucoma?
Have I made sure that my children get regular eye examinations?
Remind yourself that your Ready Readers don't come with a sight test and remember, an early diagnosis could save your sight, and perhaps your life (or even someone else's)! That's the importance of going to an optician.
You might also like...