Can False Eyelashes Damage Your Eyes?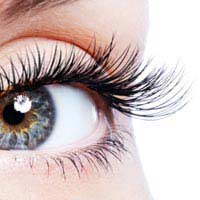 The trend for wearing false eyelashes in everyday life has grown enormously in the last few years, as have hair extensions and acrylic nails. Their constant use by celebrities means that many women, particularly teenage girls, aspire to have them. But are these techniques all safe? What are the dangers of using false eyelashes?
False Eyelashes Damage Natural Lashes
The range of different false eyelashes that are available is wide. From the budget end, you can buy ready to stick on eyelashes with glue, and do it yourself. Slightly up from that are the individual lashes that you apply at home. More expensive is going to a beauty salon to have false eyelashes and the most pricey of all, which will set you back about £60 a treatment, are eyelash extensions.
All of these options will inevitably damage your natural lashes. As most people try false eyelashes because their own lashes are short and not very dark, having eyelash extensions or false eyelashes that are professionally done can make a big difference to the way your eyes look. Many women have them done for a wedding or other special occasion, and then the damage is fairly minor and your natural lashes soon recover. The problem comes when you repeatedly have false eyelashes – removing them literally pulls your own lashes out, and you have to wait for them to regrow to even get back to your naturally short lashed-look. Usually about six weeks.
Eyelash Extensions
Like hair extensions, eyelash extensions are fixed using an extremely strong adhesive to fix on the synthetic polyester lashes that are individually fitted to each of your existing lashes. Like hair extensions, the result can be disastrous. If your own lashes don't stand up to the repeated treatments, they will either fall out or be pulled out and then there are fewer lashes to extend, so after a while you may find you achieve a weird 'spidery' look.
Eyelash extensions need to be 'refilled' every two weeks, to bond another extension onto your already extended natural lashes. Although the adhesive used is the same grade required for medical applications, the amount of chemicals that build of on your lashes is significant. Most beauticians advise that you don't have more than three refills before giving your eyelash extensions a rest, so that your natural lashes can recover.
Allergic Reactions Can Damage the Eyes
If you do decide to go for professional eyelash extensions, make sure that you go to a reputable salon. One thing that they ought to always do with a new client, or someone who has not had eyelash extensions before, is to do a patch test. A small amount of the adhesive that will be used to attach the lash extensions will be placed on your skin, usually in an inconspicuous place such as behind the ear. You will need to have this patch test done at least 24 hours before you have your lash extensions but it is a good idea to have it done the week before, so that if you do have an allergic reaction, you can cancel the appointment in good time.
If you were to have eyelash extensions with an adhesive that you were allergic to, the allergic reaction would cause your eyelids to swell and would leave your eye itself red and sore.
False Eyelashes – Good in Moderation
Like many things, eyelash extensions and false eyelashes can be great, but the ideal way to enjoy them is not to overdo them. Have them done professionally, to give a glamorous but still natural look, for a special occasion but then buy yourself some lash building mascara for the rest of the time – it's so much safer.
You might also like...