Are my Glasses Affecting my Eyes?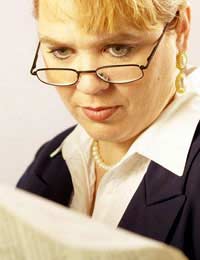 Q.
I am 75 years of age, and have worn Bifocals from the age of approximately 50. I then changed to Verifocals. I have always used the same Optician,and for the past 5 years have had an eye test every 12 months.
After the last three tests I've been told I would benefit from a slightly stronger prescription, and have purchased new glasses (One pair Verifocals, one pair Distance). But after wearing either pair for a few hours, I experience discomfort in my right eye (similar to getting soap in your eye) and have to resort to wearing my 'old' glasses.
I have had numerous re-tests (one by a different optician) but they can find nothing wrong with the glasses, or my eye.
I have suffered with Blepheritis,for the past 25 yrs. Do you have any suggestions?
(Mr William Smith, 16 September 2008)
A.
Having suffered from blepharitis for the past 25 years I expect you are well aware of how your body responds to the disorder and are used to the flare-ups. Most people will suffer from repeated bouts of the inflammation throughout their life and will know after a few episodes which treatments work for them and which are less effective.
From the sounds of it the most likely cause of the pain in your eye is due to getting used to the varifocal lens in your new glasses. Varifocal lenses and commonly known to be difficult to become accustomed to and many people do not give themselves enough time to adjust before resorting back to their old pair of reliable lenses and frames.
Some opticians give their customers several weeks to try out the varifocals before they commit to them long term for this very reason. I would suggest that you try wearing your varifocals for at least four weeks to make sure that this isn't the case for you. If need be don't wear your other pair of new glasses during this time with the aim of giving your eyes the best possible chance to adapt to the new frame. For some users however, they simply can't get used to a varifocal lens and if this is the case, you should ask your optician for an alternative lens.
It is also possible though less likely that you are suffering from a reaction to the materials in the new frames. Of course this would be more obvious if it affected both eyes equally and not occurring simply in one but it is still a possible option. Are the new frames made of a different material than your old ones? Are the hinges and nose pads made of something synthetic that causes common allergies? Although it is not particularly likely that an allergy is the cause, if you do decide to persevere with the varifocals and find that you are still suffering from pain in your right eye it may be an option. If this isn't the case maybe it is worth giving-up on the varifocals and finding another more suitable lens.
You might also like...
Hi, Please can anyone give advice on wearing varifocals. After a short while I develop a severe ache in my left eye and have to take my glasses off. It seems that my eye is struggling to focus.
Noon
- 31-Mar-18 @ 10:01 PM
On wearing my new varifocals, I am finding that my left eyeball hurts so much it feels like it will explode after 15 minutes. I can't wear them for any longer. Been back to optician who says all is fine. I have ME (chronic fatigue) could this be a cause ?
Kipster
- 21-Jan-17 @ 2:35 AM
Hi my name is palesa, I also have a problem with my eyes. Sometimes when I put my glassess, I acually get a headack. I was asking if there was earins that are fo eyes because I have heard about them. Please help
female dwizzy
- 25-Oct-13 @ 3:38 PM