How to Look After Your Eyesight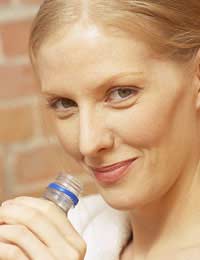 It is important to look after your eyesight to prevent your vision deteriorating and to prevent the development of eye diseases. Your lifestyle, what you eat and how much you exercise can all impact on the health of your eyes. Many people are unaware that eating healthily and exercising can affect your eyesight.
Many of us take our eyesight for granted, but according to the RNIB it is the sense we fear losing the most. Looking after your eyes can reduce the risk of eye conditions such as age-related macular degeneration (AMD) and cataracts, both of which can lead to sight loss and blindness.
Diet and Nutrition
It is more widely recognised these days that eating a balanced diet can help to prevent some eye conditions. There are many nutrients found in fruit and vegetables which are good for the eyes. These include spinach, red peppers, kale, leeks, avocados, peaches and blueberries. The antioxidants called lutein and zeaxanthin found in these fruit and vegetables can protect against age-related macular degeneration (AMD) which causes a slow deterioration of sight, eventually leading to blindness if it is not treated early enough. A lack of vitamins A and C can also increase the risk of developing cataracts and age-related macular degeneration, which is the leading cause of blindness in the western world.
It is also important to eat oily fish as it supplies the body with DHA and omega-3 fatty acids. These help provide structural support to cell membranes in the eye. Sardines, mackerel and tuna are recommended for people with dry eye, age-related macular degeneration and also for everyone to help preserve good eyesight for longer.
Water
Drink plenty of water on a daily basis. Water is essential for the whole body to function properly and that includes your eyes. If you do not drink enough water you may become dehydrated which can lead to dry, sore and irritated eyes. It is advisable to drink at least 1.5 litres of water a day and more if you are doing a lot of exercise or if the weather is hot.
Maintaining a healthy weight is essential for your whole health and wellbeing. Obesity has been shown to increase the risk of age-related macular degeneration. A high body mass index (BMI) can also cause damage of the blood vessels which can lead to diabetes or glaucoma. You can work out your body mass index by dividing your weight in kilograms by your height in metres squared. A normal weight will be a body mass index of between 18.5 and 24.9.
Alcohol
Limiting the amount of alcohol you drink and sticking to the recommended number of units per week will help keep your eyes healthy. Alcohol affects the liver and reduces the level of an antioxidant called glutathione which can help to protect against eye diseases. The Department of Health recommends no more than three to four units of alcohol a day for men and two to three units a day for women.
Exercise
Getting plenty of exercise will benefit your eyesight as it increases the amount of oxygen in the eye. Exercise can help the supply of oxygen to the optic nerve and can help to lower pressure in the eye. Reducing pressure in the eye is important to control conditions such as glaucoma and ocular hypertension.
Exercise such as walking, cycling, running and swimming can also help to control the progression of diabetes which can lead to diabetic retinopathy. It is recommended to spend at least 30 minutes a day five times a week exercising. However, always check with your GP before you embark on any new exercise programme.
Stop Smoking
Smoking can seriously damage your eyesight and increase your risk of developing age-related macular degeneration (AMD). Research carried out by the RNIB found that smokers are twice as likely as non-smokers to lose their sight. However, as soon as you stop smoking the risk declines. The chemicals in cigarettes and other tobacco products damage the blood vessels behind the eyes which can lead to sight loss. Smoking can also be a factor in the development of cataracts.
You might also like...