What Happens at an Eye Examination?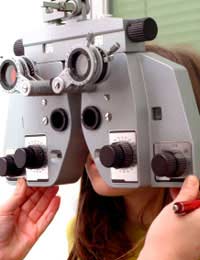 Eye examinations are not just about whether you need to wear glasses or not, they also provide a useful health check. The optician, also known as an optometrist, will not only check how good your sight is, but will also look for a whole range of eye conditions and other health problems. An eye test can detect early signs of glaucoma, age-related macular degeneration (AMD) and cataracts. Other conditions such as diabetes and high blood pressure could also be picked up.
An eye examination will take around half an hour or longer if further tests are required. Your optometrist will explain all the tests in detail. They will begin by asking about why you are having the test. It may be your regular two yearly check up, you may have noticed a problem with your sight or you may have experienced symptoms such as headaches or eye strain. Your optometrist will need to know how long you have had these symptoms and if there have been any changes since you first noticed them. You will also be asked about your medical history. It is important to tell your optometrist if there is a family history of eye problems and if you are taking any medication.
The Eye
Your eyes are examined both internally and externally. Using an instrument called an ophthalmoscope a light is shone through the pupil so that the optometrist can see into the inner part of your eye. Because of the risk of glaucoma as you get older, the optometrist will normally measure the pressure in your eyes. Raised pressure in the eye could be a sign of glaucoma. If the pressure is high, further tests will be carried out.
The main part of the eye examination is to check how clearly you can see. Measurements are taken of your vision without wearing glasses or contact lenses. The optometrist will then place a series of different strength lenses in front of your eyes until the correct measurement is reached and you can see clearly at all distances. Tests are also done to ensure that both of your eyes are working correctly independently. If there is a problem in one eye, the other eye often over compensates causing eye strain. Your peripheral vision will also be checked.
After the Eye Test
When the eye examination is complete you will be given a prescription for glasses or contact lenses. If glasses are not required you will be given a statement confirming that your eye sight is normal. You could be referred to a specialist if further treatment for an eye condition is needed. You will also be advised when you should have your next eye test. It is recommended that adults have regular eye tests every two years but you may need to have a test more often if your optometrist advises you to.
A dispensing optician will advise you on suitable glasses or contact lenses and ensure they are fitted correctly. They can give you advice about looking after your glasses and contact lenses and can answer any questions you have about your eyewear. You can take your prescription to any optician so you can shop around. It does not have to be the same place as where you had the eye test.
Entitlements to a Free NHS Sight Test
Anyone aged over 60
Children under 16 (under 19 in full-time education)
Benefit claimants
Income support
Job Seekers Allowance
Working Families Tax Credit
Disabled Persons Tax Credit
People with diabetes
Glaucoma sufferers (and anyone aged over 40 with a close relative with the condition)
Registered blind or partially sighted
Those eligible for NHS complex lens vouchers
Those on low incomes
You might also like...