What Do You Do When You're Losing Your Sight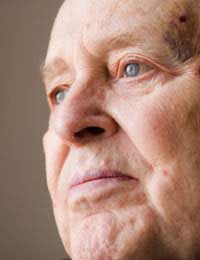 Sight loss is one of the things most of us fear, according to statistics, and we pray it doesn't happen to us. But it certainly does happen to a number of people every year, for a variety of causes. It could come about because of eye trouble, because people are born blind, or they have accidents that result in blindness. We often assume our eyes will work until they don't and we become partially sighted or experience complete sight loss.
Reactions To Losing Your Sight
Stress, fear and depression are common among those losing their sight. There's fury, sadness, and frustration – it's a grieving process. However, although the eye might not work as well as it did, losing your sight doesn't have to bring you to a stop.
The first thing you need to do if you believe you're losing your sight is to visit your GP. He will refer you to an eye specialist, a consultant ophthalmologist, who will examine you and if necessary complete a certificate of visual impairment and have you registered as either sight impaired - meaning you're partially sighted – or severely sight impaired, which is blind.
What Can You Do After Sight Loss?
Obviously, with sight loss you can't do all the things a normally-sighted person can do. You won't be as mobile as you once were. Your eyes might not work as well as they did, but there's still an awful lot that you can do. You might well be able to continue at work, for instance. There's an organisation called Action for Blind People that helps those who are blind and partially sighted. They work with employers to provide equipment, such as screen reading and magnification software, to enable to partially sighted to continue in their jobs.
If you need help getting to and from work they can liaise to help provide a support worker, or simply support for the commute. If you can't continue in your current job, they'll negotiate with your employer to see if there's another area of the company that's more suitable. If that can't work, they can arrange training for a new career.
On a personal level, your GP can give you a referral to a low vision clinic. The have equipment to help, such as magnifiers and aids for those who are partially sighted, which they can offer after assessing your sight.
Obviously, this is fine for those whose eyes have gone after eye trouble or accident and who have some sight loss, but aren't completely blind.
Financial Benefits For The Blind And Partially Sighted
Something that can be helpful is to register as partially sighted or blind, although it's certainly not mandatory. However, it does facilitate the process of obtaining financial and other benefits.
What's available for you? You can get a Disability Living Allowance, pay just half the normal rate for a TV licence, or have a rail card for the disabled. You might well qualify for free prescriptions.
The Disability Living Allowance isn't huge, but it's on top of any other money you get, and it's not taxed. Additionally, you might qualify for housing benefit and have your council tax paid, either fully or in part, receive an Incapacity Benefit.None of this can bring your eye sight back, of course. But it can help make your life easier.
You might also like...
this is a greataid to people with eye problems,getting to the stage that i cant read much now ,so will follow eye help as long as i can . Do you kownof a M P 3 player that will read books ,as well as play music .
Ruth
- 26-Jan-12 @ 10:59 AM