How to Learn Braille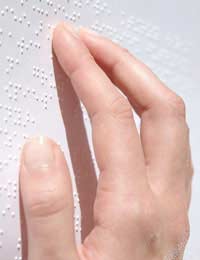 In these days when you can dictate to a computer with voice recognition software and your computer can read documents, emails and messages to you, a lot of people might think Braille is outdated and unnecessary as a means of communication.
However, that's very, very far from the case, It remains a very important tool for those who've undergone sight loss, and one that can be learned by anybody, from children to the elderly. Yes, it takes some time and effort to master it, but the rewards can be worthwhile for those who are partially sighted or have experienced blindness.
With Braille you're much more independent, since you can apply labels to items and be able to know what's in them without having as ask anyone else, for instance, while you can also obtain official documents, including bank statements and bills, in Braille, as well as play board and card games (many are available in Braille versions). In other words, it helps you expand your life. You'll also find notices in Braille in many government offices, museums and elsewhere. Sight loss is indeed a problem, but with Braille it can be less of one.
What Is Braille?
Braille is a communication system that was actually invented 200 years ago (by Louis Braille), using a system of raised dots similar to those on dominos. Each pattern corresponds to a letter of the alphabet, and it's read by running the fingertip over the dots to know the letter or number or punctuation mark. That's Grade 1 Braille
There's also what's known as Grade 2 Braille, which works a little differently, as the dots correspond not to single letters, but to groups of letters, meaning it's quicker to read. Similarly, there's Braille for maths, music, and even foreign languages.
How do you write in Braille? There are different options, from a special stylus and stale that produces the raised dots, to using a Braille printer along with your computer and voice recognition software (although it's advisable to have the document read back to you before you print it, as voice recognition software is far from perfect).
Finally, there's yet another language, Moon, which is for those whose fingertip touch isn't as sensitive.
How To Go About Learning Braille
Of course, you can teach yourself Braille, but if you have already experienced sight loss, whether blindness or partially sighted, it can be a lengthy and tricky business, although perfectly feasible, and you can get a Braille card in either English or Welsh from the Royal National Institute for the Blind (RNIB).
However, they suggest that it's easier to learn in a class with a tutor, who might be someone sighted or a person already fluent in Braille. This will speed up the process tremendously as well as providing social interaction. For those who are sighted and wanting to learn Braille – with a blind or partially sighted family member or friend, possibly – the RNIB runs correspondence courses in both Grade 1 and Grade 2 English and Welsh Braille. They can be contacted through their website.
Additionally, there are special packs and books for teaching children Braille, from infants to older kids.
You might also like...