The Process of Getting a Guide Dog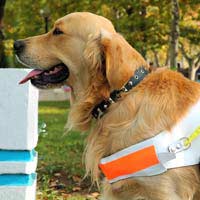 Guide dogs can be wonderful aids for the blind and partially sighted, and also for those who don't qualify as either, but have experienced significant sight loss. For all they've become a common, accepted sight, guide dogs have only been used in this country since 1931, and they weren't really in widespread use anywhere until after the First World War.
Getting a guide dog, and working with it, means developing a bond with the animal and an association that will last for the life of the dog (the average working life is, perhaps surprisingly, only between six and seven years). You develop a closeness to the point where the dog can become an extension of you.
Who Can Get A Guide Dog?
The Guide Dogs for the Blind Association trains and supplies guide dogs to people who are blind, partially sighted, or experiencing a sight loss, and who are UK residents. They also do their own breeding (they work mostly with Labradors and retrievers, which have proved to be temperamentally ideal to work as guide dogs). It's also worth pointing out that they receive no funding from the government, operating solely on private donations.
Those who get guide dogs only pay the Guide Dog Association 50p for their animal, a very nominal sum. They're the first to admit; however, that guide dogs aren't for everyone.
Getting A Guide Dog
It's not just the guide dog that requires training – the owner does, too. That's because of the way the dog's trained – to walk in straight lines whilst avoiding obstacles, to stop at kerbs and steps. It can also find doors and zebra crossing as well as a number of other places the owner might use regularly. Although very intelligent, the dog doesn't have any super abilities – when you're crossing the road, for instance, you'll have to be the one deciding not only where to cross, but whether it's safe to do so.
For those who aren't blind, the process of getting a guide dog means a certain re-training of the senses. If, for instance, you see an obstacle and guide the dog around it, then you diminish the dog's ability to guide you. Essentially, your training means develop a complete trust of the dog and its ability to do the job, which can take a little while. Much of the training comes from simply walking with the dog in different environments from busy city streets to suburbs and more rural areas to develop you own skills, as well as more basic aspects of dog care.
Although the animal comes from the Guide dog Association, once yours it becomes completely your responsibility, which means everything from taking it to the vet to feeding, brushing, exercising and working the animal. So, as much as a guide dog can free you, getting a guide dog means you've also taken on a lot. For that reason, before taking on the dog, you'll have to sign a contract. But you will also receive visits from trained support staff, so you're not entirely on your own.
On average, the waiting list for getting a guide dog is around six months, which is a surprisingly short time, but the Guide dog Association does breed in the region of a thousand puppies every year.
You might also like...