The RNIB and How it Supports the Blind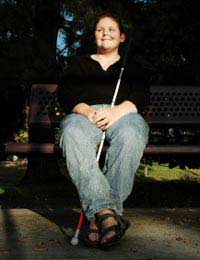 Losing your sight is usually a devastating blow, particularly if it happens suddenly. Living without such an important sense is very difficult, particularly at first. When everything in life changes, people can become angry, depressed and feel unable to cope. Even though friends and family do their best to help, it is often difficult for them to remain objective. That's where organisations such as the Royal National Institute for the Blind come in. The RNIB provides advice, support and information to anyone in the UK who has experienced sight loss and is currently actively helping nearly 2 million people.
The RNIB and Talking Books
The RNIB is a charity that offers membership and that raises money for its activities to help and support people who are blind. The organisation ran their 'Talking books' campaign in 2010 to mark the 75th anniversary of their service to lend out talking books to its members. This has proved very popular and has done a lot to highlight the need for more books to be recorded so that people without sight can enjoy books again, and share them with their sighted friends. The RNIB has one of the largest libraries of books on CD in the UK and it spends an amazing £4 million each year running the service and keeping blind and partially sighted people up and down the country stocked with their favourite titles.
Although talking books are recorded and put onto CDs, normal CD players don't really allow the flexibility that people need to read books – it's not quite the same as listening to an album of music. The RNIB has designed its own players – which it calls Daisy players – and it provides over 18 000 of these to its members at any one time. These have easily accessible controls on the top of the player, which are easy for a blind or partially sighted user to recognise through touch. These allow them greater flexibility to move through the book, replaying and navigating as they want.
The RNIB and Braille Documents
Braille is a set of raised symbols that are 'printed' onto a page to allow a blind or partially sighted person to 'read' the information by recognising the symbols with their fingertips. This is a highly skilled process that takes a great deal of practice and the RNIB runs Braille courses for both adults and children and provides equipment for writing in Braille. The RNIB also runs a WebDoc service, to transcribe business documents and other pieces of information into Braille and print them from a computer. This is an invaluable service for business of all sizes, who need information to be printed and made available in Braille.
Information from the RNIB
In addition to campaigning for talking books and helping individuals and other organisations to produce written documents in Braille, the RNIB provides detailed and helpful information on all aspects of sight loss. They run a telephone helpline and a magazine, as well as the very well run website. The organisation is committed to helping people to live independently, and to make the most of their lives. It advises people on their rights and entitlements, and is right up to date on the latest benefits available.
The RNIB Online Shop
The online RNIB shop offers talking books for sale and other items such as the RNIB penfriend audio labeller. This device has been recognised for innovation by the Canadian Institute for the Blind and it is a simple but ingenious pen that records audio labels that can stick to personal objects. You can use one, for example, to label tins in a food cupboard so that a blind person trying to live independently will know whether they are opening baked beans or custard. It can also be used to organise the contents of a freezer, to stick to storage boxes to indicate their contents and to organise many other things around the house and also in the workplace.
Volunteering to Help the RNIB
As well as donating money to help fund the activities of the RNIB, their website also details various volunteering opportunities that are available up and down the UK, from fundraising to driving people around locally. When you see just how much the RNIB achieves, it is sometimes difficult to believe that it is mainly run on voluntary donations and through a lot of voluntary support.
You might also like...
My grandchild is blind and keep on pushing his ginger into his eyes,why
morne
- 1-Mar-14 @ 12:10 PM