Pros and Cons of Coloured Contact Lenses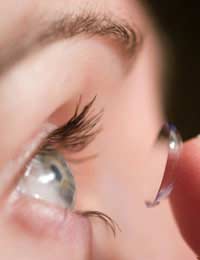 Since it became possible to obtain contact lenses in prescription lenses, people who otherwise would have to wear glasses most of the time have the choice of several types of lens. These are carefully made to correct their eyesight and are prescribed by an optician or optometrist. This is important because aftercare of lenses requires careful supervision, particularly in the early stages. A lack of attention to eye hygiene can lead to infections and soreness.
Cosmetic Contact Lenses
Some people would argue that all contact lenses are cosmetic to some extent but it is now possible to buy contact lenses that do not correct your vision at all. Since 2005, it has been possible to buy piano contacts in the UK – these do not enhance eyesight but they do change the appearance of the eyes. The early cosmetic contact lenses change or enhance the colour of the eye. Someone wearing brown lenses over blue or grey eyes can change their eye colour to dark brown, for example.
Coloured contact lenses are not always intended to give a natural effect. Some of them are glow-in-the-dark or have markings to make your eyes look like those of a cat or a reptile. These are supposed to be 'fun' for parties – but wearing any contact lenses can be hazardous.
Who Can Supply Coloured Contact Lenses?
In the UK, the Opticians Act of 1989, which covers the supply of contact lenses also applies to cosmetic piano contacts. They must be provided by a reputable and trained optician or optometrist to make sure that the wearer has sufficient after care. You cannot just go into a shop that sells cosmetics and buy a pair off the shelf. Unfortunately, it is possible to obtain piano contacts on the internet and some of the suppliers are less than reputable.
Risks of Cosmetic Contact Lenses
The higher rate of keratitis and corneal eye infections that have been recorded in people who wear cosmetic contact lenses has been put down to the lack of aftercare that people receive when they buy contact lenses for recreation through the internet. Often, just the lenses are provided with the barest of instructions about how to put them in and take them out, and sterile solutions are not included. If people who wear any type of contact lens do so without storing them, cleaning them and rinsing them carefully, they are prone to infection. Even worse effects can occur if people share lenses (yuk).
Pros and Cons of Coloured Contact Lenses
When coloured cosmetic contacts are used with care, with proper cleaning and inserted and taken out properly, they pose very little risk. If you want to change your eye colour, or look like a cat, you are able to do. The problems only arise due to poor aftercare and you can make sure that you don't succumb to eye problems by getting your lenses from an optician, or from a registered supplier. This may be more expensive, but your eyesight is priceless.
Avoid Internal Lenses
There are also some much rare horror stories of people having a coloured contact actually inserted under their cornea by a poorly qualified cosmetic surgeon. This has happened outside the UK but it is never a good idea to have an internal lens. You may want to permanently change your eye colour, but one or two people who have had this done have suffered massive internal eye infections that have left them almost blind.
If you want lenses for cosmetic reasons, disposable soft lenses, with good aftercare, are the best and safest option.
You might also like...