Why Did I Wait So Long to Get Varifocals?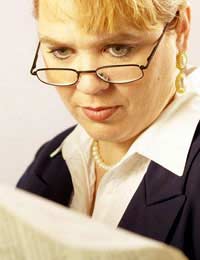 Marnie is originally from California and although she has lived in the south of England for nearly 20 years now, she has kept the style of the west coast of America. "Living here has actually made me much less image-conscious, which is a good thing, but I workout, I make sure my hair, make up and nails are perfect and I always dress well – even if I am going to the market at the weekend," she laughs.
Ageing is not part of the Californian scene and nor is it part of Marnie's. "I am 47 this year and I really hate it that I could be regarded as being middle aged. I am still young and I am going to fight any sign that I have to relax on my appearance," she stresses.
Short Sight, Long Sight
Marnie has been slightly short sighted and has worn contact lenses and glasses since she was in her early teens. "I haven't always enjoyed having to wear glasses but, in the last few years, designer frames and designer glasses have really expanded and I have four or five pairs whenever I have my glasses changed," she says.
As Marnie had been short-sighted, she was secretly anticipating an improvement in her eyesight when she reached her mid-forties. "I know that everyone develops a condition called presbyopia. It's totally normal and it just means that the lenses of your eyes are starting to harden with age. I knew that one of the effects is to make you more long sighted – the joke of not being able to read a book without holding it at arms length," she smiles.
Unfortunately, it didn't quite go to plan and from around her 44th birthday, Marnie started to have increasing difficulty reading small print.
It's all in the Small Print
"I couldn't focus properly and reading food labels, newspapers, books, the instructions for my new central heating controls, it was all very troubling," she remembers. Marnie had expected some sort of change to correct her own short sight but this is not how presbyopia works. She remained short sighted but her own lenses lost their capacity to accommodate – to focus on near and far objects as well as they once could.
"I struggled for about 2 years as I had just got 4 pairs of new, very expensive designer glasses and some new disposable contacts – I will go to great lengths for my appearance and I loved the new glasses. I hated the thought of changing them and I absolutely dreaded having to have bifocals or varifocals – yeuk!" grimaces Marnie.
An Optician Recommends Varifocals
When her time to go for her eye check up came around again, Marnie was extremely frustrated by not being able to see properly. "I was having difficulty at work, I couldn't see to paint my nails straight and I found myself going out in odd earrings at least twice. It was a nightmare," she says.
Since her last visit, her usual optician had left, so she was seen by a new, female optician. "I liked her immediately; she was very well dressed, very well groomed and she had the most beautiful designer glasses. I asked her which designer because I was quite keen to get some. I also told her about my problems with sight but stressed that I would never get old people's glasses, so bifocals and all that stuff was definitely out!"
When Marnie was so adamant, the optician could not help laughing. "I told her that my image is very important to me and I just couldn't have nasty glasses with these obvious funny lenses. I was really quite upset but she just pointed out that I had said I wanted glasses like hers. I nearly fell of the chair when she told me they were varifocals..."
Varifocals Make the Difference
The optician explained that modern varifocal lenses look just like ordinary glasses lenses to the person on the outside. The can be fitted into any frame, designer, or otherwise. "To cut a long story short, I got one pair in the most fantastic frames I could find. When they came two weeks later and I put them on I couldn't believe how well I could see. Why I put it off for so long – it was just stupid. After three weeks I went back and ordered another pair. I couldn't run to the usual 5 because the lenses were more expensive, but it hasn't cramped my style at all," she laughs.
You might also like...