Picking Suitable Frames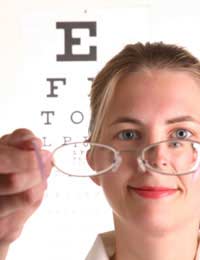 There is a huge range of glasses to choose from and there are new designs available each season. Your optician will be able to give you advice and help you find frames to suit you and your lifestyle. They will ensure they are fitted correctly and are comfortable for you to wear. You could always take a friend along to help you choose.
Complexions
Lightweight metal frames with just a hint of colour are best for people with fair skin. Tortoise shell frames often look good on those with pale complexions. Brightly coloured frames should be avoided as they can make you look even paler they generally look better on darker people.
For dark complexions, silver, gold or clear frames look good. Although black may look too heavy, frames in burgundy and brown tones will suit darker complexions.
Face Shapes
The easiest way to remember what style will suit your face shape is that the frames should compliment, not match the shape of your face. So totally round glasses will not suit someone with a round face. People with oval faces are lucky as almost all frames will suit them. Slightly elongated and square frames are best for people with a round shaped face, as they will help to highlight the upper face. So-called heart shaped faces will look better in more delicate glasses or rounded or high cheekbones look best with rounded glasses or frames with a strong top line.
Choosing frames to suit is never an exact science so break the rules and pick what makes you feel good. Some people have several glasses to match different outfits or occasions.
Driving
If you drive a lot it is worth bearing in mind when you are choosing glasses that some frames are better than others for driving. Glasses without a rim or with thin rims allow greater all-round vision than those with thicker frames. Anti-reflection lens coatings are available which help to reduce the glare from bright lights and are particularly beneficial when driving in the dark. Anti-reflection coatings can be applied to all lenses.
Parents
If you have children, particularly young children, it would be worth selecting frames which will do not break easily. Special frames are available which bend and then spring back into shape. Normal frames can be very fragile and if they get broken accidentally they can be expensive to repair or even replace.
Sport
If you play a lot of sport you may also wish to get special frames for sport. For some sports, especially in contact sports, it is not advisable to wear glasses and soft contact lenses would be more appropriate. If you usually wear lightweight frames, they may be able to be fitted with side pieces which curl behind the ears. It is also possible to wear a sports band to securely keep your glasses in place when playing sport. The safest frames to wear in sport are special protective sports goggles. These will also protect the bridge of the nose as well as your eyes.
You might also like...