Computer Vision Syndrome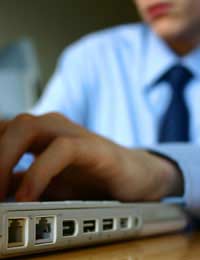 This complaint is a temporary problem that arises from spending long periods of time in front of a computer screen. It can cause blurriness of vision often from not changing focal point and from the glare and brightness given out by visual display units.
The tiny muscles around the eye can become strained from not being exercised regularly, caused by sitting in one position and looking at the same distance for too long.
There is also a noticeable deficiency in blinking which can lead to dry and irritated eyes.It has been suggested that by spending only two hours in front of the screen is sufficient to suffer from many of the problems associated with computer vision syndrome.
Symptoms of Computer Vision Syndrome
The most common sign of computer vision syndrome is temporary blurred vision, especially whilst trying to focus on the screen. This can often be corrected by shifting the focal point of your vision to another object either nearer or further away allowing the eyes to exercise and adjust.
Other symptoms can include tired eyes, dryness of the eyes and tension headaches. These problems should be discussed with your optician and if necessary your employer so that preventative measures can be incorporated into the days workload and routines.
Preventing Computer Vision Syndrome
This condition can be prevented in many ways. The most important and simplest measure to take is to take regular breaks away from the computer screen or by shifting the vision away from the screen allowing the eyes to change their focal point, thus allowing the eye muscles to relax.
Other methods include using an anti-glare device which can be placed over the screen and helps to filter the light emitted from the screen, reducing the brightness and dazzle caused by the display unit. Keeping the eyes moist using either artificial drops or by preventing as dry atmosphere can also help to prevent this condition. Working in a smoky atmosphere will encourage eyes to become dry, always work in a smoke free room, even whilst at home.
Adjusting the level of the screen or seat height will also help to reduce eye strain and will have the added benefit of helping to reduce back ache and neck and shoulder problems.
Many employers are now looking at introducing glasses specifically designed for those who work for long periods in front of a computer. These glasses help to reduce the glare and prevent eye strain from developing.
It is advised that a good quality computer screen is used as the eyes will be able to focus better in the presence of a higher number of pixels.
Children are particularly at risk of this complaint as they are spending longer and longer working on computers at school and are coming home and playing for long periods of time on games consoles, often in a fixed position with the screen being at the same distance away for the duration. It is important to educate on the problems associated with computer screens and encourage them to take breaks away from the screen, or to use eye wear appropriately.
Regular check-ups at the opticians will help keep your child's eyes healthy and will allow the optician to detect any problems at an early stage.
You might also like...
I was suffering from CVS for months until I came across a little product called "Blink Now" - I was very impressed with the results!
GregSurshore
- 22-Mar-11 @ 10:26 AM