The Latest Eye Tests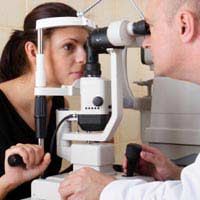 Having an eye test is an important part of your health routine. Most people should have an eye test at least once every two years, some more frequently, especially if they are over 40. Eye tests are not just about finding out whether you are short or long sighted, important though this is. The health and function of the eyes can provide a good indication a range of health conditions, some affecting the eye, but others that affect the whole body. Modern eye tests incorporate a range of tests that can show up if anything is wrong at an early stage, so that treatment can be more effective.
Eye Tests for Astigmatism
Astigmatism occurs in people whose eyeballs are elliptical in shape rather than spherical. The light does not fall on the retina evenly, causing blurring and eye strain headaches. As astigmatism tends to occur in people with other eye problems such as short or long sightedness, a full eye test is required to find out how the different conditions interact, and to sort out what will be the best corrective lens. When you have an eye test and you look at different coloured images and you are asked to say whether an image is clear with or without an extra lens, that test concentrates on the degree of any astigmatism.
Eye Tests for Glaucoma
Glaucoma is a condition in which the pressure inside the eyeball is raised. When this happens over a long period of time, it tends to cause the growth of new blood vessels. These can break through the retina, causing disruption to vision, particularly if they grow through the macula, the central part of the retina that is responsible for the finest detail. Testing to see if you have glaucoma involves several different eye tests.
The pressure of your eye is measured by a machine that puffs air into your eye, making you blink. The optician looks at the back of your eye with an ophthalmoscope and you also have a test that shows if you have any blind spots. This involves sitting and looking at a bright image and then pressing a clicker every time a peripheral spot appears. These flash randomly and a computer programme plots if there is any part of your visual field where you can't see them.
Eye Tests for Presbyopia
Presbyopia occurs in most people when they reach the age of about 45. It becomes increasingly difficult to see things that are close up, although distance vision is still good. The problem is caused by hardening of the lenses of the eye with age, and problems with accommodation and focusing. An eye test for people of this age incorporates several different tests to assess the degree of presbyopia so that the optician can recommend either varifocals or bifocals, to correct vision in the best way possible.
Eye Tests for Colour Blindness
Special eye tests for children include looking at images to investigate whether there is any degree of colour blindness. Red-green colour blindness is the most common and occurs more often in boys than in girls.
Imaging Eye Tests
Various imaging techniques are used by the optician to check the health of the inner eye and the retina. Eye tumours, a detached retina, age-related macular degeneration and retinal vein occlusion can all be diagnosed using an ophthalmoscope, which the optician holds up to the eye, or a fundoscope. This takes a photograph of the back of the eye and the image can be stored on computer and viewed on a large screen.
Other specialist types of imaging include using a slit lamp biomicroscope, and angiography. The slit lamp technique allows the back of the eye to be seen in high magnification, almost in 3D. Angiography involves having a fluorescent dye injected into the veins leading to the eye, so that they can be visualised in great detail. Ultrasound can also be used on a closed eye to 'see' the structures inside – useful for an eye that has been injured and cannot be opened.
Techniques such as CT scanning are sometimes used – these are very useful for finding a hard foreign body in the eye, after an accident, for example, or to locate the position of a tumour.
You might also like...