What Does it Mean to Be Legally Blind?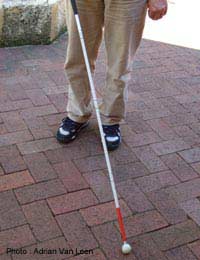 You might think that it is a case of being blind or not, but vision loss happens over a wide spectrum. For legal purposes, it is necessary for us to define blindness so that people with vision too poor to drive are prevented from doing so, and also to protect their rights. Someone who is declared legally blind is regarded as being disabled and unable to do many types of work, so is usually entitled to various benefits to help them cope financially. They may also qualify for aids such as a dog for the blind, or specially adapted equipment, such as a Braille keyboard and speech recognition system for a computer.
What is Total Blindness?
Total blindness comes under the umbrella of legal blindness; it is a term used to describe someone who is completely unable to perceive any light or colour at all in either eye. In cases of total blindness, there is no real decision to be made about their legal entitlement to benefits available. The problems arise when people with various grades of vision loss need to be assessed.
Legal Definitions of Blindness
The legal definition of blindness varies from country to country but most nations, including the UK define it as having a visual acuity of worse than 20 in 200. But what does that mean? If you have normal vision, imagine standing 200 metres from an object – a car in the street, for example. Someone who is legally blind according to this definition would need to be just 20 metres away and wearing their normal corrective lenses or glasses to see the same detail on the car that you can, even though you are standing much further away.
Being able to see well is not just about being able to see things at a distance. Visual field is also important. Someone with good vision can see a visual field of around 180 degrees but people with very restricted vision, even though the bit this is left can still be quite good, are classed as legally blind. The limit usually imposed is a visual field of 20 degrees or less, which is about 10% of the visual field of someone with 'normal' eyesight.
Measuring Visual Acuity
The usual way that legal blindness is assessed is by an optician with an eye chart. The chart that you can see in all opticians' consulting rooms is called a Snellen chart. This starts off with very large letters and the top and the size then decreases, with more smaller letters on the next line. At the bottom is a long line of very small letters. By assessing which lines people can read, an optician can work out where their sight lays on the spectrum of 'good' to legally blind.
The problem can be complicated by various eye conditions such as diabetic retinopathy, which cause loss of vision in the central field, but not around the outer part of the vision. People with this sort of vision loss can still see things 'out of the corner of their eye' but cannot focus at all on what is in the centre of their vision. Where things should be at their clearest is just a fuzzy black ball. People with this central scotoma, as it's called, can be declared legally blind but they may be able to function more easily that someone who is totally blind because they can perceive light, colour and movement on the outside of their blind spot.
You might also like...