Hay Fever and Allergies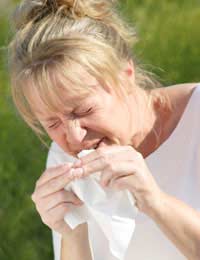 People who suffer from hay-fever and allergies, find that contact lenses are not very comfortable to wear. Many people find it is better to wear their glasses when hay-fever or other allergies flare up.
The most common symptoms of hay-fever are itchy eyes and nose, sneezing, runny or blocked nose and difficulty in breathing. Exposure to pollen may also set off an allergic reaction as the conjunctiva (a membrane covering the whites of the eye) becomes inflamed and causes watery and itchy eyes. Some people experience a gritty feeling in their eyes. Dust and city pollution can make the condition even worse. It is worth checking with your GP or pharmacist about medications for hay-fever and allergies. Your GP and your optician will also be able to advise you about anti-inflammatory eye drops.
People who wear contact lenses may find that their eyes become very irritated. You do not have to stop wearing your lenses but if the symptoms become severe you may find it best to take them out. The best solution for hay-fever sufferers is to avoid pollen as much as possible by closing windows and keeping surfaces clear with a damp duster. But it is not always possible to keep completely away from pollen and dust. Here are some tips to ease the suffering:
Try to avoid wearing contact lenses in hot, dry or dusty conditions. Wearing sunglasses at the same time may help to protect your eyes from dust and pollen.
Avoid wearing contact lenses when you are gardening, particularly when mowing the lawn.
If your eyes become dry, ask your optician for lubricating eye drops to ease the dryness. However, always seek professional advice from your optician or GP before using lubricating eye drops.
When the pollen count is very high it is best to wear your glasses rather than your contact lenses.
The level of pollen is usually lower in the evenings so you may find the symptoms ease during that time of the day.
If your eyes become very sore and red take out your lenses immediately.
Don't sunbathe with your contact lenses in and be careful not to get suntan lotion on them after you have taken them out.
Treatments for Hay-Fever
There are a number of treatments available, ranging from antihistamines to decongestants. Always check with your GP or pharmacist before taking any medication. Antihistamines work by suppressing any swelling or inflammation on the eyes, throat or inside the nose. Anti-allergenic nose sprays and eye drops act as a defence against the release of histamine. Decongestants are very effective at relieving blocked noses.
For severe cases of hay-fever your GP may prescribe steroid eye drops which can be very effective. However they can lead to serious side effects such as glaucoma, cataracts and damage to the cornea.
Other Tips
Other hints for alleviating the effects of hay-fever include:
Avoid going outside mid-morning or the early evening when the pollen count is highest
Drive with the windows shut
Keep your bedroom window closed at night
Bathe your eyes in cold water at regular intervals
You might also like...