Diabetes and Eyes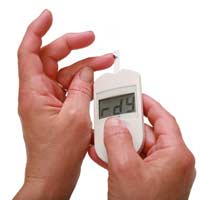 There are over 2 million people with diabetes in the UK. The charity Diabetes UK, estimates that another 750,000 people have the condition and aren't aware of it.
Diabetes is a condition which develops when the amount of sugar in the blood is too high because the body cannot use it properly. Too much sugar in the body is not only a result of eating too many sweet foods. Sugar is produced when you digest starchy foods such as bread, rice and potatoes. The liver also produces sugar.
The body uses insulin; a hormone produced by the pancreas, to process sugar and help it to enter the cells where it is used for energy. The levels of insulin in the body determine the type of diabetes someone has. If the body is unable to produce any insulin you will have type 1 diabetes. This condition is more common in younger people, under the age of 40. This type of diabetes is not as common as type 2, when the body can still make some insulin. The body produces some insulin but it is not sufficient to work properly. Type 2 diabetes is linked to being overweight.
How Diabetes Affects your Eyes?
The long term effects of diabetes include complications of the eyes, heart, kidney, nerves and feet. If the diabetes is not being treated, eye problems are more likely to occur and you may notice frequent changes to your eye sight. The risk of serious eye conditions can be reduced if the diabetes is well-managed and under control. In most cases sight loss can be prevented if eye problems are caught early and are treated.
Diabetic Retinopathy
People with diabetes are at risk of developing a condition called diabetic retinopathy which can seriously affect your eye sight. Diabetes is the leading cause of blindness in people of working age in the UK because of diabetic retinopathy. However, if the condition is detected and treated early sight loss can be prevented in 90 per cent of those at risk.
Everyone with diabetes, whether they have type 1 or type 2 should have an annual check for diabetic retinopathy. The condition affects the blood vessels supplying the retina – the seeing part of the eye. The vessels become blocked, leaky or grow incorrectly. The damaged vessels prevent light getting through to the retina which results in sight loss.
Diabetic retinopathy can eventually lead to blindness if it is not treated. Regular screening for diabetic retinopathy is crucial to detect the condition early. If you have diabetes your GP will be able to refer you to a screening programme. People with diabetes are entitled to a free NHS sight test every year. Despite this, only around two thirds of people with the condition have taken up the entitlement. As well as checking for diabetic retinopathy a sight test will check your vision and other eye health problems.
Keeping your blood sugar (glucose) and blood pressure under control will also help to reduce the risk of developing diabetic retinopathy. Treatments are available for diabetic retinopathy.
Cataracts
People with diabetes are also at a higher risk of developing cataracts. They can develop earlier and more quickly in diabetics compared with people who do not have the condition. Cataract causes a gradual blurring of vision as the lens becomes cloudy. The condition can be worse in certain situations such as bright sunlight. Cataracts are easily treated and in most cases normal eye sight can be restored by surgery.
You might also like...