First Trip to the Optician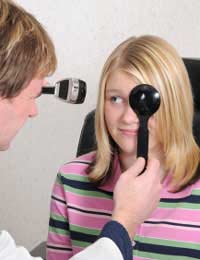 Eye tests are crucial for children to ensure they develop both academically and socially to the best of their ability. The eyes are still developing up until the age of 7 so it is important to pick up any problems early and treat them before any damage becomes permanent.
Help from the NHS
All children under the age of 16 and those under 19 who are in full-time education are entitled to a free NHS sight test. Children are also entitled to a voucher to help with paying for glasses. There are many types of frames available which are within the voucher value and are suitable for children so there are plenty to choose from, but you can also use them towards the cost of other pairs.
Children may not complain of problems with their sight as they will not have anything to compare poor vision with. Many eye conditions do not have any symptoms so it is important to have regular eye tests to ensure your child's eyes are healthy.
When Should your Child Visit the Optician?
A baby's vision is checked at six weeks and again at around 3 years old. This will not be a full eye examination that adults undergo but will check the eyes are developing correctly. The pupils are checked to ensure that they open and close properly in different light conditions. Checks that the eyes can fixate and follow an object are also carried out. The age when eye checks are carried out on babies can vary in different parts of the country. If you are worried about your baby's vision ask your GP or optician for advice.
There has been a lot of debate about when a child's eyes should be checked again. Every child should visit the optician at least by the time they start school.
Tests
When you take your child to the optician for the first time, reassure them that the tests will not hurt and that there is nothing to worry about. It is best to book an appointment at a time when your child is usually alert and happy. The optician will carry out a number of tests to check their near and distance vision, their binocular coordination, their eye movement skills, their ability to focus, their peripheral vision and their eye and hand coordination. If any problems are detected they may refer your child to an ophthalmologist at the hospital eye clinic.
Children do not have to be able to read to have an eye test. The optician will have special equipment for children and a special chart. They have eye charts which use pictures rather than letters.
Always tell the optician if you have noticed any signs such as rubbing their eyes, sitting very close to the television, difficulty concentrating or blinking a lot. It may not be anything serious but the optician will check everything out. It is also important for the optician to know if there is a family history of eye problems, particularly if there is a history of lazy eye, squint, short or long sightedness or other eye conditions.
You might also like...