Infant Eye Hygiene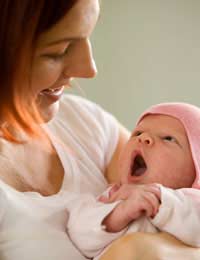 Many new parents worry that they are not providing adequate hygiene for their young, especially around the more delicate areas, eyes included.
Daily Care
A new born baby will need minimal care for their eyes during the first few months and a simply cleanse with fresh clean warm water will usually be sufficient to maintain healthy eyes. Using a clean cotton cloth or cotton pad dipped in warm water, use a single gentle swipe moving from the inner edge of the eye to the outer edge. Repeat with a dry material and this should be enough. It is often more beneficial to use a cotton piece of fabric rather than a cotton wool ball as these can leave fibres on the eyelashes resulting in irritation to the baby.
Do not be tempted to keep wiping the eyes as this is not necessary, nor is it advised to add anything to the water such as lotions or shampoos; newborn babies do not get sufficiently dirty to need these additions.
Common Infant Eye Conditions
Conjunctivitis
Conjunctivitis is a very common complaint in the young with newborns being no exception. This infection can be transmitted to the infant during birth from bacteria in the birth canal. It can also be transmitted very easily from others, including the parents and will cause the eyes top become red, itchy, inflamed and sticky. Speak to your midwife or health visitor for advice if conjunctivitis is suspected.
Most eye infections in new born babies can be prevented or lessened in likelihood if strict hand hygiene of all those who come into contact with the baby are adhered to.
Strabismus
This term means to have misaligned eyes which are very common in infants as their eye muscles and focal movements are undeveloped. One eye may turn inwards or have a tendency to turn outwards, especially when they are trying to focus on objects near to them. This problem is most often corrected naturally by the age of around four months. Any concerns can be discussed with your health visitor who will monitor the problem and make referrals if necessary.
Blocked Tear Ducts
This can be seen more often in new babies as one of the delicate ducts around the eye may not have formed properly by birth. This problem will usually rectify itself a few weeks after birth and can be treated easily at home by bathing with warm water.Babies suffering from this problem may have eyes that at first appear watery followed by a sticky discharge that can irritate the eye area.
Babies have very healthy eyes on the whole and often do not suffer from many eye complaints. They enjoy visual stimulation and as they grow it will be beneficial to excite their visual sense using colours and shapes.
The best way to maintain your child's eyes and protect them from damage is to adhere to good hand hygiene practices on a daily basis and educate other children in the home to do the same.
Simply bathing with clean water will be sufficient to keep a child's eyes clean and healthy.
You might also like...