Poor Vision or Something More Serious?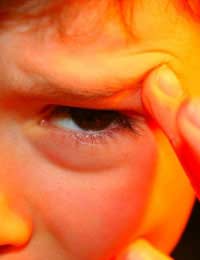 Good eyesight is crucial to ensure that children develop both at school and are able to interact socially. A child's eyesight is used for around 80% of a child's learning. If a child cannot see clearly they will not be able to learn as well as a child with good eyesight. Poor eyesight can make a detrimental impact on all aspects of a child's life.
Many eye problems and diseases will not have any symptoms so it is important to be aware of the possible signs and to take your child to the optician for a regular eye test. An eye examination will check for eye problems such as lazy eye (amblyopia) and squint (strabismus). It will also check that there are no signs of eye disease which if left untreated could lead to blindness. All children under the age of 16 are entitled to a free annual sight test. If children need to wear glasses they can also get help with paying for glasses. Young people under the age of 19 and in full-time education are also entitled to a free NHS sight test.
Signs to Look For
Parents and teachers should look out for signs which could mean that a child has a problem with their eyesight. If a child has difficulty concentrating, complains of headaches or eyestrain, rubs their eyes a lot or always sits close to the television, there could be a problem.
Behavioural problems could also be an indication that the child has a problem with their eyesight. For many eye problems such as amblyopia (lazy eye), there will be nothing upon which the parent or teacher can judge something is wrong. The child is unlikely to complain and to a teacher, their vision will seem normal. There may not be any symptoms such as headaches or eyestrain which might alert an adult to a problem. This is why it is so important for children to have a regular sight test, not just when problems are suspected - otherwise children run the risk of developing permanent sight loss.
Other Eyesight Problems
If a child has a problem with their eyesight, such as short sightedness or long sightedness, then this can be corrected by wearing glasses. However, the child may have other problems with their sight which could lead to learning disabilities. Eye problems such as short sightedness are just one part of a child's eye health.
The way the eye functions such as how it focuses, whether both eyes are working together and overall eye movement are other key factors for good eye health. A child may have problems focusing on the blackboard because they cannot change their focus from close up, to things in the distance. If the eyes do not function together, a child may have eyestrain, double vision, headaches and will find it difficult to concentrate. If a child's eye movements are not working correctly, they will lose their place when reading which often leads to frustration. These eye problems can lead to low self-esteem and depression.
Visual perception is important for children to be able to understand what they see. Eye-hand coordination supports visual perception along with visual memory. For example, a child learns to recognise words they have seen previously and uses the brain and eyes to form a mental picture of the word. Therefore the eyes are an important part of learning and if they are not working correctly this will have an impact on a child's development.
Children with dyslexia and hearing problems are more prone to eye problems. Dyslexic children may have problems with reading. The most common eye problems in dyslexic children are a reduced ability to read close up and problems with eye movement. Children with hearing impairments have a much higher incidence of visual problems. Due to their disability, these children are even less likely to be able to communicate problems with their sight than other children. Deaf children rely strongly on their vision to develop communication skills so it is very important for these children to have their eyesight checked.
You might also like...