What is the Cause of Seeing Bright Colours and Patterns?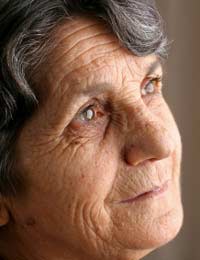 Q.For a while my nan has been suffering with her eyes. Throughout the day she will start seeing bright colours and zig zag patterns.These patterns can occur up to 3-4 times a day. As you can imagine this is worrying the family. Is there any way you would know the cause of the problem?
(Miss Kayleigh Vale, 18 September 2008)
A.
There are many possible answers to this question, some not serious others a little more so. It is very difficult to give a detailed estimation of what could be causing your mothers sight problems.
If she wears glasses or contact lenses it could be related to her prescription or the way in which the items are being cleaned.
Many migraine sufferers report seeing wavy lines, bright spots, distorted colours or other visual disturbances so it could be associated to something like this.
Does your mother work or has she ever worked for long periods in front of a computer where she is continually exposed to a visual display unit?
You do not mention if she is taking any medication or has started taking a new drug recently as many prescription drugs can cause visual disturbances and it may be that she simply needs her prescription amending or that a different form of the medication should be tried.
In all honesty the best answer is to first have her eyes tested by an optician who may be able to carry out the initial tests for glaucoma, cataracts and changes to her existing prescription of glasses (if any). Secondly, if this does not reveal any answers or possibilities, it is recommended that she speaks to her doctor who will be able to carry out a more detailed assessment and refer to the necessary specialist if need to be to try and get to the bottom of the problem.
Whilst waiting for an appointment the best course of action is to make sure she is safe and doesn't operate any machinery that could become a hazard if she suffers from the problem whilst operating it. It may be worthwhile to rearrange her furniture in her home to make sure nothing is obstructing her especially at night or when the problem seems to get worse.
Eyes are very complicated organs and can deteriorate with age but any events that happen out of the norm should be investigated as they may be able to be rectified very easily or may reveal a more serious cause which will need treating.
You might also like...