Retinal Vein Occlusion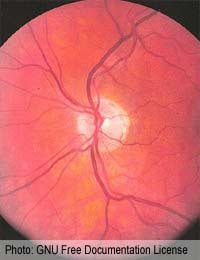 Retinal Vein Occlusion
Retinal vein occlusion occurs when the tiny veins directing the blood supply away from the eye become blocked. This can cause the blood to build up and eventually the increase in pressure causes leaking into the tissues affecting vision.
Why Do The Veins Become Blocked?
As this condition affects parts of the vascular system, any disorders that can block veins may cause this problem. Smoking, consuming a diet rich in fats, high blood pressure and obesity can all be contributory factors. Smoking and fats can cause a build-up of plaques or cause the blood to become thickened which may lead to the vein becoming occluded by either the plaque or a blood clot. The vein walls may become hardened also making it difficult for the blood to be drained away. This can also be caused by smoking, fats and high blood pressure.
Signs And Symptoms
The symptoms associated with this condition vary depending on which veins are affected by occlusion. If a blood vessel becomes blocked, blood will built up behind the blockage and also caused oxygen levels to certain parts of the anatomy to become depleted.Blockages in these vessels can happen very quickly due to their very narrow diameter and vision can be altered fairly rapidly. Blurring, loss of vision or patchiness of images may present sometimes quite severely.If sudden loss of vision has occurred the person must seek medical help immediately to achieve an accurate diagnosis of the problem.
Treatment For Retinal Vein Occlusion
During diagnosis of retinal vein occlusion, consideration should be given as to why the occlusion has occurred. It is likely that there is an underlying condition that will need diagnosing and treating, with the possible effect of saving life. Undiagnosed hypertension (high blood pressure), vascular disease, heart disease and diabetes can all be life threatening and will need treating to prevent other, possibly more serious blockages in major veins and arteries from occurring. Lifestyle changes and medication can prevent the blood from thickening, though blood test will need to be performed regularly to assess the coagulation levels of the blood.
Current treatments for retinal vein occlusion include the use of laser therapy which involves using a very powerful but precise beam of light sent directly onto the required area. Massaging the eye may help, but this should only be done by a professional who will have been trained on how to do this. There is currently a great deal of research being carried out in the field of retinal vein occlusion treatment and new drugs are being developed and tested.The person will have to adopt a healthier lifestyle in order to prevent other blockages from occurring.
Retinal vein occlusion can be a serious condition and an indicator of some potentially life threatening diseases. It can occur in anyone of any age and treatment options will depend on the cause of the blockage. Often the blockage itself cannot be treated directly, but further occlusions can be prevented by making various changes in lifestyle and by having underlying illnesses diagnosed and treated early and effectively.
You might also like...
My optician informed me last week that the pressure in my eye was higher than she would like and asked me to go back the following week to check it out as this has never happened before, and I am now elderly,When I went back to see her today, she said that it was now better,Could the fact that I was on stugerone the previous week had any effect to cause the pressure ?The stugerone was prescribed because I had a middle ear imbalance?
none
- 12-Feb-13 @ 9:13 PM