Corneal Disease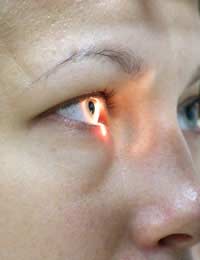 There are many conditions that fall under the umbrella title of corneal disease these can be the result of genetic factors, age and degeneration or because of an infection.
Types of Corneal Disease.
Infections
Infections of the corneal can include those brought on by attacks of shingles, a condition resulting from suffering from the chicken pox virus more than once. The herpes zoster virus can lay dormant in the nerve pathways in the body for a number of years, but occasionally it can manifest itself in areas such as the eyes and cause blisters and painful abrasions on the cornea.
Another infection that can affect the eyes is ocular herpes, a viral infection the same as that which cause cold sores or of the sexually transmitted type.
Dystrophies
There are many types of dystrophy that can affect the eyes, each result in damage to the structures of the cornea, of which there are many due to the complex anatomy of the cornea, namely the many different layers of which it is comprised.
Many of these dystrophies occur with age as the corneal tissue degenerates; others are due to hereditary factors or may develop for no known reason.
Signs and Symptoms.
The symptoms of corneal disease depend largely on the cause of the disease, eye traumas can cause a lot of pain and can have a very sudden onset, whilst other types gradually worsen with age.
For most there will be a marked difference is visual ability, sometimes gradually worsening over a period of years so that reduction of vision is not noticed in the first stages.
For most there will be some degree of light sensitivity and occasionally headaches can accompany this problem.
Treating Corneal Disease
Again, the treatment options vary greatly depending on the type of disease and it's cause. Eye drops can occasionally be given to help reduce blurring, or those that contain anti-inflammatory and anti-biotic preparations if an infection is the cause or if trauma to the eye has occurred.
Many people will benefit from regular eye examinations and the correct prescription of lenses or glasses can be offered to help the sufferer retain vision.
For those with advanced progressive diseases and dystrophies a corneal transplant may be indicated, whereby the damaged cornea is removed and replaced by a donor cornea given with permission from a willing donor.
Prevention of Corneal Disease.
For some who experience trauma, the only way of preventing the likelihood of injury is to ensure that protective eye wear is worn when necessary. If you work in a high risk environment, your employer has a duty of care to provide protective equipment if deemed necessary.
For others, infections can be prevented by treating any disorders such as shingles as soon as possible, or to prevent the transmission of the herpes virus.
Unfortunately, for those with degeneration or when a hereditary factor is the cause, regular eye examinations will help to diagnose the condition and treat it early on to help prevent the condition from deteriorating and to check it's progress.
Corneal disease is a vast subject with many causes and treatment options. Early diagnosis and provision for glasses or lenses will help the person retain vision and continue to enjoy a good quality of life.
You might also like...