An Accident at Work Detached My Retina!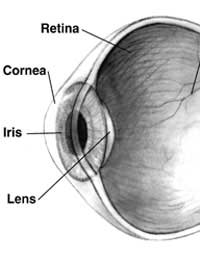 "I don't really remember much about my accident – I suppose that's the way the brain copes with things like that. I think my workmates were more traumatised than I was," says Mark, a 34 year old shop fitter.
Ten months ago, his day started badly. "My van wouldn't start and I ended up being late on the first day of a new job in Blackpool, ten miles away from where I live. After that, everything seemed to go wrong," he recalls.
Half way through the day, Mark and two other shop fitters were clearing out some old cupboards from the back of what was going to be a new Italian restaurant when Mark slipped and fell against the wall. "My foot got caught in some wire – it was all a bit chaotic – but when I fell I chose a piece of wall with a huge nail sticking straight out of it. It went into my eye," explains Mark.
Emergency Dash to Hospital
If things were chaotic before, they were now completely hysterical. "Apparently there was a lot of blood and everyone thought I was going to lose my eye – it wasn't a pretty sight," says Mark. Fortunately, his workmates acted very quickly and put a sterile gauze over his injury and got the paramedics there within 20 minutes. Within an hour, Mark was in hospital where he was rushed to the specialist eye unit.
"I remember more about getting to hospital and having my eye examined – I was quite frightened by this time as I imagined what it would be like to only have one eye. I was asked to keep as still as possible and given some pain killers but, by this time, I was in agony," he says.
Detached Retina
After a long and careful examination, the eye specialist told Mark that the injury at the front of his eye was not as bad as it had first appeared. However, as Mark had fallen, the end of the nail had pulled at his eye and this had torn part of the edge of his retina. The bleeding that followed had then gone behind his retina and it had become completely detached. "I had no idea what a detached retina was – it sounded horrendous and I still thought I would be blind in my right eye, even if it could be saved," adds Mark.
Laser Treatment and Surgery
Mark was given more painkillers and the doctors advised surgery as soon as possible. The next day, they operated on Mark to repair the detached retina. They then used a laser treatment to seal the edge so that any further swelling or bleeding, or scar tissue formation, would not dislodge the retina as the eye injury healed. They also repaired the damage to the side of the eyeball and the superficial wounds to his eyelids.
"My girlfriend nearly fainted when she saw me for the first time afterwards. I looked awful but I was reassured by the surgeon who told me that the operation had gone well and I would make a good recovery. He couldn't say, however, exactly how much of my sight would be left, so it was still a big worry," says Mark.
Still Recovering
Mark was allowed to leave hospital after three days but then had to rest at home with regular check ups for the next month. He will still have to have six monthly check ups on his sight over the next couple of years and then will need to be very strict about having an annual eye test. "My eyesight in my right eye is better than I ever thought it would be but its not as perfect as it was. I have to wear glasses for reading now but, in about a year's time, my eye should be OK for a contact lens, just to help the sight of that eye," says Mark.
It is very important now that the health of Mark's retina is monitored carefully. Any signs that it is beginning to detach should be dealt with very quickly. "The optician will be able to check that during every eye test and it's something that I will have to get used to. All in all, I think it's a small price to pay for still having sight in my eye after what was a really bad eye injury," concludes Mark.
You might also like...