I Have a False Eye and Few People Notice: Case Study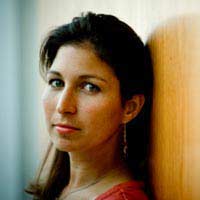 Debs is an outgoing 35-year old who lives a full life; she has three children and works part time as a veterinary nurse near Peterborough. "I meet new people every day, whether it's through work or though taking and picking up my kids from school and very few people ever notice anything different about me," she laughs. With her long dark hair and green eyes, Debs gets plenty of second looks but none of them ever guess that one of her beautiful green eyes is actually totally false.
"My parents noticed that something was wrong as soon as I was born. My mum had had a bad case of flu, or so she thought, when she was pregnant. We now realise that it could have been rubella – German measles. One of the side effects of this infection when you are pregnant is that it can make the foetus both deaf and blind. I had obviously developed too far for that to be the case, but I was born with one really stunted eye," she explains.
Growing Up and a Noticeable Problem
When Debs was a baby, her parents knew that there was a problem with her right eye, but it was hard for other people to notice. As she grew, however, the stunted right eye didn't really grow with her and as she got bigger, so the eye became more obvious. "When I was 10, I went to see a man who specialised in making false eyes. It sounds horrendous but this is a very specialised job – there are only about 20 people in the whole of the UK who are expert enough to do it," she explains.
Experts in making false eyes are officially called ocularists and they make false eyes for people who have been born with an eye problem such as Debs and also for people whose eye has become damaged in an accident or through war, or because an eye has to be removed because of retinoblastoma, a common childhood eye tumour. "Ocularists get very busy when there is trouble in Iraq, unfortunately," says Debs.
A First False Eye
By the time she started secondary school Deb had her first false eye. "Back then, the material wasn't as smooth and supple as the modern materials used now but the matching of my other eye was still perfect and no-one at my new school guessed. I had to have another eye made every three years during the time I was at school," says Debs.
Debs quickly got into a routine of putting the prosthetic eye in first thing in the morning and taking it out and cleaning it at night. "When I was 15, I was being bullied by a really obnoxious girl at school; she was always making comments, saying she would get me and following me about with two of her friends, acting like henchmen. I will never forget that one day I came out of the loo and she was washing her hands. No-one else was there, it was just the two of us. She sneered and said this was perfect – she was really going to get me now. Quick as a flash I took my eye out and held it right under her nose, saying if she laid a finger on me, I would curse her with my witch's eye. I have never seen anyone run so fast and I felt a bit guilty – but she never dared say a word to me after that," giggles Debs.
Eye Materials Evolve
The skill of making a false eye is to get a perfect fit – Debs' eye is actually shaped like a cup that fits over her existing eye, which is still there – rather than being a sphere. "The painting that the ocularist does is so fine and detailed. He matches it exactly for colour, even the colour of the white of my other eye and the tiny veins. As I get older, I suppose he will match it to look older, perhaps with a few broken veins!"
Debs is, for the moment, very happy to have beautiful eyes and marvels at the way that the materials that make up the eye have changed. "The process of taking a mould to make the eye the correct size and shape used to take about 30 minutes and was really uncomfortable but now a quick setting polymer is used and it takes about 3 minutes. The end result is fabulous – even I forgot I have a false eye!" she says.
You might also like...
i am having my eye removed and a new false one fitted, i need to know the procedure of removal, how long i have to wait for new one etc, all done on nhs.. thanx
You're not alone deb,i lost my left eye in 1962 through an accident when I was 5 years old, I have been through the gamut of name calling,bullying, but I was of the nature that if you pushed it to far, I would punch you down, it's stood me in good stead over the years and I don't get any problems from people anymore after all I was only a say whipping it out as quick as a flashbaby and did'nt ask for it, I don't even see myself as having a problem, it's the people with 2 eyes that have more sight problems than me.!an elder boy knocked my eye out throwing a piece of metal at me and destroying the eye,what I did not know was the operation to remove my eye and put a plastic plate under the skin to help make the prosthesis move better became obsolete six mths later!! however I must admit I did have a lot of fun with it, and made money from it,
nobby
- 5-May-11 @ 5:18 AM