Diabetes Damaged My Sight: Case Study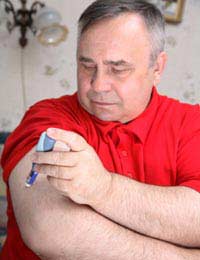 At 53, Paul does get frustrated at having to be so dependent on his wife and his two grown up children. "I have been diabetic for many years – I was diagnosed in my teens – but I have always tried my hardest to control my blood sugar by taking insulin as directed and by controlling what I eat. I am generally fit apart from in one important respect. I am blind in one eye and have very poor vision in the other – all because of my diabetes," he explains.
Cataract Operations
Paul's sight problems started in his 30s, when he developed cataracts. These are usually associated with the elderly but diabetics do tend to suffer from them much earlier in life. After two successful operations to replace his own lenses with artificial ones, Paul's eyesight was greatly improved. "I was working as a maths teacher, and the school was very understanding about the time I needed off and when I came back, everything went well for nearly 10 years. In fact, after I had my own lenses removed, I didn't get the same fluctuations in vision quality as I did before, because my blood sugar variations didn't affect the artificial lens as much," he says.
Glare Becomes a Problem
As he reached his late 30s, Paul began to have problems with glare and a loss of sensitivity in his vision. "I couldn't make out subtle shades of colours and of light and dark and I sometimes felt that I was trying to see when I had just walked in from being outside when it was very sunny, even though it could easily happen when the sun wasn't even out," explains Paul. By this time, Paul was not only under the care of his optician, who was checking his eyesight every three months; he had also been referred to a consultant who specialised in ophthalmology for diabetics.
"The frustration stems from the fact that I am having all these vision problems but I have never neglected to either look after myself or my health, or been neglected by the health care system. Everything possible has been done to extend my sight but I just have to accept now that I will become blind in the next few years," says Paul.
Glaucoma and Retinopathy
As he reached 45, the time when most of us have to think about reading glasses or varifocals because of the age-related changes in our lenses, Paul was wearing the strongest lenses possible and was having his vision corrected for rapidly developing yellow/blue colour blindness. "What I had dreaded for some time also happened – after my annual appointment the consultant broke the news to me that I was developing glaucoma. The pressure in both my eyes was higher than normal and he could detect the start of new blood vessel growth in my retina. This is a classic sign of diabetic retinopathy," says Paul.
After undergoing several laser photocoagulation treatments two years ago, the consultant thinks that the deterioration in Paul's vision has been halted for the time being but Paul is now legally blind in his left eye and has only 20/100 vision in his other eye.
Impact of Vision Loss
"To anyone, losing their ability to see well is a great blow but for a diabetic it adds another layer of complexity and means that I am even less independent. I need to be able to see properly to monitor my blood sugar, and to administer my own insulin. I have got to the point that I can still do that, but not unaided. I try to do as much as I can, but there is no use putting my health at risk for pride," he concludes.
You might also like...