What are Cataracts?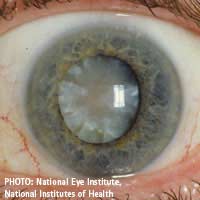 A cataract is a lens that has become cloudy, causing blurred eye sight. The blurring might be worse in certain situations such as bright sunlight. Cataracts are very easy to treat and normal eye sight can be restored by surgery in most cases. They usually develop slowly over a period of time and do not cause any pain.
What Causes Cataracts?
Despite numerous studies into the condition, no one knows exactly what causes cataracts. There are a number of factors which could potentially lead to cataracts such as smoking, excessive exposure to sunlight and poor diet, but research has not proved conclusive. Cataracts can occur at any age but the majority of people with cataracts are over the age of 65. Cataracts which develop in younger people are usually due to an injury, taking certain types of medication, a long standing inflammation of the eye or an illness such as diabetes.
Symptoms
The most common symptom is blurred vision. Some people think their vision is blurred because of dirty or scratched glasses but as the condition becomes worse they seek professional advice. Others experience a form of double vision, as the blurring occurs in two places causing a double image. As the cataract develops its centre becomes a yellow colour so some people will find that everything they see changes colour and has a yellowish tint.
Cataracts often make you more short-sighted which can be compensated for by altering the prescription of your glasses or contact lenses. Tinted lenses can also help in bright conditions. However these are only short term remedies as the cataract will continue to develop and your eye sight will deteriorate further. Eventually surgery will be required to remove the cloudy lens. This can usually be carried out as day surgery.
If you experience any of these symptoms it is very important to seek advice from your optometrist (optician) who will undertake a full eye test. These symptoms could indicate that you have other eye problems. The optometrist will refer you to the GP or hospital specialist if necessary.
Congenital Cataracts
Babies can also be born with cataracts and these are known as congenital cataracts. Babies who are born with the condition or who develop cataracts shortly after birth, account for the largest proportion of children who are registered blind or partially sighted in the UK. New treatments and earlier detection of the condition are helping to reduce the number of children with sight problems caused by congenital cataracts. As in adults, cataracts are cloudy lenses and cause blurred vision. As a baby's visual system is not fully developed, cataracts are a very serious condition because the eye does not receive any stimulation to develop fully. If left untreated it can cause permanent damage to a child's sight.
The size of the cataract will determine how much sight is damaged. A small cataract may only result in a slight blurring and the child should develop normal eye sight. Larger cataracts can lead to a permanent lazy eye (amblyopia). If the eye does not receive sufficient stimulation the centre of sight can be affected. Peripheral vision is not usually affected by cataracts.
You might also like...