What is Allergic Conjunctivitis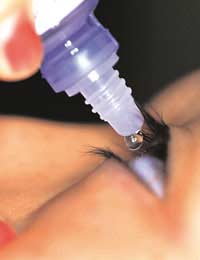 Allergic conjunctivitis is inflammation of the conjunctiva caused by an allergic reaction. It is a common response to many different types of allergen, and it results in red, intensely itchy eyes that can become very uncomfortable. It is also common for a horrible, stringy discharge to come out of the eyes, which can make you think that you have a nasty eye infection. There is usually, however, no bacterial or viral infection present in the eyes.
Many people who experience allergic conjunctivitis also show other traits that indicate allergies, such as eczema, hay fever and asthma.
Where is the Conjunctiva?
The conjunctiva is the very thin membrane that covers the inside surfaces of the upper and lower eyelid and that also covers the cornea, at the front of the eye. These surfaces are bathed in fluid, and are the prime location for exposure to either bacteria, viruses, or allergens, that can cause inflammation.
What Allergens are Responsible?
Typically, the allergens that cause allergic conjunctivitis are airborne, and include pollen (tree pollen and flower pollen), dust mite proteins and dander from pets. Some people can go into a house that where there are cats and develop allergic rhinitis within minutes; allergic conjunctivitis can take longer to develop, usually arising several hours later. In order to develop severe allergic conjunctivitis, you usually need to be exposed to the allergen constantly over an extended period.
It is common for people who are allergic to pollen to develop this condition during the late spring and early summer, when the pollen levels are at their height. This condition is officially termed seasonal allergic conjunctivitis.
A rarer type of allergic conjunctivitis arises in people who wear either hard contact lenses or soft contact lenses. They develop a condition known as giant papillary conjunctivitis; this affects only around 5% of people wearing hard lenses and 1% of people wearing soft lenses. Although some people need to stop wearing their lenses for this condition to clear up permanently, others find that they have a specific allergy to one of the solutions used to either bathe the contact lenses or to clean them. Changing the brand of solution can sometimes solve the problem.
Treatment for Allergic Conjunctivitis
As allergic conjunctivitis does not involve a bacterial infection, antibiotics eye drops will not help. The best treatment is eye drops containing an anti-histamine, or sodium cromoglicate as this can prevent the allergic response if they are used continually over a few weeks. People who know that they are prone to allergic conjunctivitis because of their reaction to pollen should start regular eye drops in early spring to obtain the maximum benefit.
If allergic conjunctivitis persists over a long period or is really troublesome, causing problems seeing at school or at work, it is a good idea to consult either your GP or an ophthalmologist. Occasionally it is necessary to prescribe eye drops containing a corticosteroid. If the allergen can be avoided, or your exposure to it can be reduced by changing your lifestyle, that is the best long term treatment.
How Many People Get Allergic Conjunctivitis?
More than you might think. Around 15 in every 100 cases of problems that relate to the eyes that are serious enough to warrant visiting a GP are due to allergic conjunctivitis. That means, in the UK every year, 30 000 people make appointments because of this condition. About half of them are affected by seasonal allergic conjunctivitis, usually because of a response to grass pollen. Other types of pollen are also to blame and a further 20% of those affected respond badly to flower pollen.
You might also like...