Treating Cataracts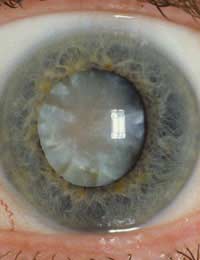 A cataract is a lens that has become cloudy, causing blurred eyesight. The blurring might be worse in certain situations such as bright sunlight. Cataracts are very easy to treat and your normal eyesight can be restored by surgery in most cases. They usually develop slowly over a period of time and do not cause any pain.
The effective way to treat cataracts is to have an operation which will remove the cloudy lens. It is not necessary to have to wait until your eyesight becomes severe before you have the surgery. As soon as daily tasks such as reading, cooking or going to work, become difficult due to poor eyesight you could be suitable for surgery.
Cataract Surgery
Before the operation you will be fully assessed by an eye specialist (ophthalmologist.) You will not need to stay overnight in hospital as the operation can be performed as day surgery. The operation is usually carried out under a local anaesthetic so you will not feel any pain but you will be awake during the procedure. The surgeon will talk you through what is happening during the operation. Some people have a general anaesthetic and if this is the case you will be asleep whilst the operation is carried out.
The eye specialist carries out the surgery using a microscope, through a small opening in the eye. The opening is very small so that stitches will not be required afterwards. You will only have one eye operated on at a time and the operation takes about 20 minutes. It can sometimes take a little longer.
Lens Implant
The operation is a very simple procedure where the lens is removed and replaced with a clear plastic lens. This plastic lens is called an intraocular lens implant and remains permanently in the eye. After the lens implant has been fitted a protective pad will placed over the eye to protect it from accidental rubbing or being knocked.
Laser treatment is not suitable for treating cataracts. Sometimes further treatment is needed after cataract surgery and lasers can be used. If the lens casing, sometimes called the capsule, becomes cloudy then you might need laser treatment for this.
After Surgery
Eyesight is generally restored immediately after the operation, although it may take a few months for the eye to be completely healed. You may still need to wear glasses for reading as the new lens is normally set to distance vision and not for close up vision. If you were wearing glasses for distance vision (short sightedness) then you may find that you will need a new prescription for your glasses. The lens which is implanted into your eye can be set up to correct short sightedness.
You will also need to use eye drops for up to two months after the surgery to help prevent any infection in the eye. Although most people find their eyesight is fully restored it is advisable to bear the following in mind when recovering from the operation:
Avoid rubbing your eye
Avoid strenuous exercise and swimming and don't do any heavy lifting
Take care when the weather is windy to avoid any particles flying into your eye
Be careful when washing your hair to avoid any shampoo getting into your eye
Avoid wearing any make-up to avoid any irritation or infection
There are always risks with any surgery and problems can occur. However cataract surgery is now very common and is one of the most successful operations. Less than 2% of patients have serious complications. One of the most common problems with this surgery is a thickening of the lens casing but this is easy to treat with laser surgery.
Treating Congenital Cataracts
Cataracts found in children at birth or shortly after birth are known as congenital cataracts. Eyesight is damaged in the same as way for adults and vision becomes blurred. Treatment for congenital cataracts is crucial as they can cause permanent sight loss in children if they are not treated. As with treating adults, the most effective treatment is to remove the cloudy lens and replace it with a lens implant. Children will then usually also need to wear glasses if they also have short sightedness or long sightedness. Early detection and treatment is especially important for children as they need to be able to see clearly for their visual system to develop correctly. If there is a cataract in one eye only then the child may have to wear a patch over the healthier eye. This will force the brain to use the weaker eye and this helps the visual system to develop. This is often called patching.
You might also like...