Services for the Housebound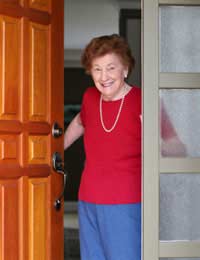 Home visits from an optician are available to those people who are unable to leave their home due to a physical or mental disability. Visiting opticians will carry out an eye test and dispense glasses if necessary. This service is sometimes called a domiciliary sight test.
Residential Homes
People living in care or residential homes who are unable to visit a high street practice unaccompanied can also use the home visit service. Although the majority of those who are confined to their homes are older people, anyone who is housebound and has a disability, can have a home visit. Many people who are housebound, or who care for someone who is unable to leave the house, are unaware that the service exists. People who are on low incomes may be entitled to a free NHS domiciliary eye test. You can check with your optician to see if you are entitled to help from the NHS.
Home Visits
The visiting optician is specially trained to examine people in their own home, many of which may also have a number of other health problems. Using portable versions of standard optical equipment, the optician is able to carry out an eye test on the patient. The optician will be able to check that there is good lighting and they will be able give advice about using contrast to help them see objects more clearly. If glasses are required they will give advice about suitable lenses such as enhanced reading lenses or progressive lenses. They will ensure that the frames are fitted correctly or make adjustments to glasses which are already being used.
Benefits for Patients
Getting treatment for eye problems, whether that is simply pair of glasses or medication, can make a huge difference to person's quality of life. For those who are unable to leave their home, being able to read, do the crossword or read the newspaper can dramatically improve their overall well-being. Research has shown that not being able to see clearly is often a factor in falls in the home amongst older people. Ensuring people have good sight will also help many people to live in their own home for longer. Improving eye sight will significantly reduce the risk of falls and other accidents in the home.
Low Vision Service
Opticians can also help if you are visually impaired. If you are unable to get to a low vision service in the community because you are housebound, opticians who provide domiciliary services will come out to your home. They will help you with using low vision aids such as magnifiers and provide help with everyday tasks.
How to Find a Home Visiting Optician
If you need to find an optician who runs a home visit service you can contact your local Primary Care Trust. You can also ask your local high street optician and they will be able to advise you. If they do not provide a service themselves they will be able to tell you which local companies do provide the service. You can also check the yellow pages.
You might also like...