Sight Deterioration with Age (Presbyopia)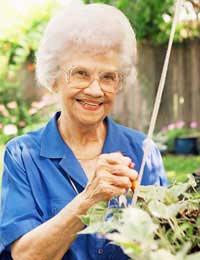 As we get older we generally accept that our eye sight will get worse, but in many cases poor vision can be treated by wearing the correct glasses or contact lenses, although some eye problems are more serious and may require medication or surgery.
Eye sight changes over time, so it is important to have regular eye tests so that any problems can be picked up and treated early. Experts recommend that adults have regular eye tests every two years to check for any problems and to ensure you are wearing the correct prescription for your glasses or contact lenses. People aged over 60 are entitled to a free NHS sight test. Other groups of people are also entitled to eye examinations and help with the cost of glasses so it is worth checking with your optician.
As we age we become more at risk of eye problems, but many of these can be successfully treated if detected in the early stages. Eye conditions which are more likely to develop after middle age include glaucoma, age-related macular degeneration (AMD) and cataracts. All these conditions can be detected in an eye test and there are many treatments available to manage the conditions, ranging from eye drops to laser treatment.
Presbyopia
Presbyopia is a natural part of the ageing process and is one of the most common eye problems in the UK. As your eye sight changes many people gradually become aware that they cannot see as well as when they were younger. It also becomes harder to focus on close objects. The pupil becomes smaller which restricts the amount of light which is able to get through, so you may find that you need more light to be able to see clearly. Presbyopia is a condition which gradually develops over a long period of time. Some people notice the first signs of presbyopia in their mid to late forties but it can occur at any age.
Light is needed to enter through to the cornea in order for us to be able to see. The shape of the cornea and the lens help to bend the light so that it projects an image on to the retina. As the lens slowly stiffens as we get older it looses its ability to bend the light so it becomes more difficult to see things close up. The eye finds it difficult to adjust quickly to quick changes in focus on near and distant objects.
Symptoms
There are several symptoms with presbyopia, ranging from eye strain when doing tasks close up, such as reading or looking at a computer screen, to headaches. Difficulty seeing close up, especially when reading, is the most common symptom. Other symptoms are the need for brighter and more direct light when reading and not being able to see contrast when reading print.
Presbyopia can easily be diagnosed by your optician, who will check your near vision and be able to treat the condition. In the majority of cases all that is required is a pair of reading glasses.
You might also like...