Flashes and Floaters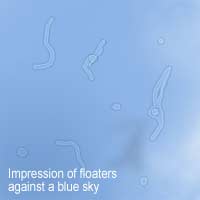 Flashes and floaters are a very common occurrence and generally are not a cause for concern. However if you experience flashes or floaters at any time, it is important to get them checked out to rule out any further eye problems. Although they are harmless and will not damage your eyesight, they could be a sign of something more serious which could need treatment.
Flashes
If you experience flashes or streaks of light, it could mean that the vitreous (the jelly-like fluid which fills the inside of the eye) is shrinking and may become detached. It is important to get it checked out as it could be a sign of a retinal detachment, which is very serious. A retinal detachment is when the retina is pulled out of position causing sight loss. This is quite rare but it does require urgent treatment.
Some people experience flashes of light which look like jagged or wavy lines. This usually only lasts for around 20 minutes and is caused by a migraine, which is a spasm of blood vessels in the brain. A severe headache sometimes, but not always, follows a flash caused by a migraine.
Floaters
Floaters or spots are small, semi-transparent or cloudy particles in the vitreous. Floaters may appear as specks, thin strand or cobwebs in front of your eyes and are most visible when you look at a plain light background such as a blank wall or the sky. They move with your eyes if you try to focus on them.
Causes
Floaters may be caused by a number of problems. They often occur naturally as part of the ageing process when the fluid in the eye deteriorates. Some eye conditions or an injury to the eye can cause floaters. They can even occur before birth as a result of trapped protein or other matter during the formation of the eye in the womb.
Floaters and flashes are generally more common in older people. The vitreous humour thickens and clumps as we get older and this causes floaters. Some people are more at risk of developing floaters such as those that are short sighted, those who have had cataract surgery, those who have had some type of laser treatment or those who have had an inflammation in the eye.
Treatment
Most people find that floaters disappear after a period of time and they are only a temporary discomfort. If floaters suddenly appear and are accompanied by flashes of light or you lose any peripheral vision, it could be a sign of something which does need treatment.
These symptoms together could indicate diabetic retinopathy, retinal haemorrhage or a retinal detachment. If the shrinking vitreous gel pulls away from the wall of the eye, the retina could tear. This can lead to bleeding in the eye which may appear as new floaters. If this occurs you should go to the hospital eye clinic straight away for urgent treatment. Always visit your optician to check that floaters or flashes are not a sign of another eye condition.
You might also like...