Eye Infections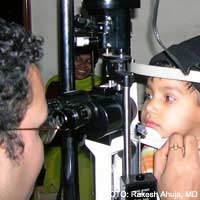 There are a number of infections which can affect the eye and vision. One of the most common is conjunctivitis. This is an inflammation of the conjunctiva, which is the thin transparent layer that lines the eyelid and covers the white part of the eye. Other eye infections include herpes zoster or shingles and herpes simplex infection.
Conjunctivitis
Conjunctivitis can be infectious, allergic or chemical.
The infectious type of conjunctivitis is sometimes called pink eye. It is caused by a contagious virus or bacteria in the eye.
Allergic conjunctivitis is caused when the body suffers an allergic reaction from pollen, cosmetics, or animals.
Chemical conjunctivitis occurs when chemicals in pollution, fumes or the chlorine in swimming pools causes an irritation in the eye.
Conjunctivitis is very common and can cause a lot of discomfort and irritation in the eyes. Symptoms can include red, watery eyes, inflamed eyelids, blurred eyesight and an itchy feeling in the eyes. Some people experience a watery discharge. Although conjunctivitis does not usually cause damage to your eyesight, it is important to seek medical advice from a GP or optician as sometimes it can develop into a more serious condition.
Most cases of conjunctivitis can be treated with eye drops. Antibiotic eye drops will be needed for infectious conjunctivitis. If the condition is caused by a virus then it can only be fought off by the body's immune system. Eye drops will only relieve the symptoms and will not treat the condition.
Infectious conjunctivitis can spread easily so it is important to always wash your hands before putting drops in. Do not share towels, face cloths, cosmetics or eye drops with other people.
Herpes Zoster or Shingles
Although this is a condition which affects the skin, it can also affect the eyes. The eyes are connected to nerves which may be infected with the shingles virus.
The shingles can lead to a number of eye problems such as redness of the conjunctiva, an inflammation in the eye known as iritis or ubeitis and it can affect the optic nerve or retina. It may also cause scratches on the cornea which can increase the risk of bacteria in the eye and further infection. Other symptoms caused by shingles can include redness, swelling, sensitivity to light and blurred vision. In severe cases, shingles can cause more serious eye conditions such as glaucoma and cataracts.
Eye infections caused by shingles can be treated with eye drops and antiviral medications may also be prescribed by your doctor. In some cases steroids may be prescribed to reduce inflammation.
Herpes Simplex Infection
This type of eye infection has similar symptoms to other minor eye conditions. It may appear to be a bacterial infection as the eyes can be painful, they become watery, red and sensitive to light. The herpes simplex infection causes the cornea to swell which will affect the eyesight, making it blurry. It cannot be treated by antibiotics and in most cases the changes to the cornea will go away without treatment. The infection can reoccur and this becomes more serious. If it reappears several times it can result in permanent scarring and sight loss. There are anti-viral drugs which can be prescribed as an ointment or a solution but these are not always as effective as taking tablets.
You might also like...
I developed shingles that went into my right eye four years ago- since the original breakout I've had several reoccurrences . Today it's broke out. Is it important not to go around people?It's Sunday( church) it's very painful but with medication I keep going.How important is rest?
Jane
- 13-Jul-14 @ 1:44 PM
My husband has developed double vision as a symptom of spinocerebellar ataxia.Using an eye patch helps but is difficult for him to put on due to incoordination of hand movements. Do you have any form of occlusion which would fit over one side of his spectacles as he thinks this would help. Regards Amelia Simonini
Dan
- 21-Jul-12 @ 5:11 PM
I have twitching of the right eye, it is not noticable to other people also the eye wells up with water.
carol richardson
- 17-Mar-11 @ 10:44 AM