Diagnosing Ocular Tumours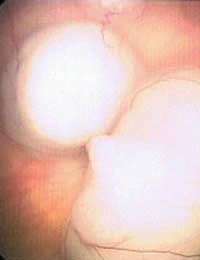 When most people think of tumours and cancers they associate them with the breast, the skin or other major organs, but the eyes are also at risk of developing tumours and growths that can risk both sight and occasionally life so it is essential to have some form of awareness of the conditions so that they can be diagnosed early.
Signs And Symptoms
The type of symptom you have hugely depends on the type of growth or change you are experiencing. Many eye problems do not have any very noticeable symptoms which is one reason why we must attend regular eye tests and examinations. Tumours of the eye may have no symptoms in the early stages so it is important that we know exactly what our eyes look like in normal health to be able to spot any changes as early as possible.
If you have any double or blurred vision this indicates that something is wrong, though not always a tumour or growth.Some forms of both benign and malignant tumours may initially present as a small freckle-like occurrence in the eye, often this is dark in colour and may grow over time.
If your eye is red, painful or weeping any fluid this can indicate changes in the eye and should be examined by a professional.Not all symptoms have to be uncomfortable as one sign can be if you have noticed any changes in colour to your eye. This can include the pupil, (often a yellowish tinge) and this may be more noticeable in photographs, especially in children. Where you would normally see red-eye, you may notice a yellowy shade instead.
When To See Your Doctor Or Optician
It is essential that we all attend regular eye tests so that your eye specialist is able to look very closely in your eye. He or she will be able to spot very small but important changes in your eye that may suggest something is wrong and tell you who you need to see for an official diagnosis.
If you have any sores that won't heal or are leaking pus you should see you doctor in case you have an infection that puts your eye at risk.
Any instances of small spots appearing in your eye, even in the white bit should be reported to your doctor, especially if they begin to infringe into the iris or eye tissue.
Obviously if you have any extra tissue growth in your eye this should be checked out, including if it is around the eye area.Any changes in your eye that are different to it's normal health should be mentioned to your doctor as the eye is a very delicate and intricate organ and early diagnosis is essential in a good recovery should there be anything serious wrong.
How Will It Be Diagnosed?
Your eye doctor or specialist will probably use a variety of techniques to determine the type of growth or tumour you may have.Using a special camera, a series of photos will often be taken to examine the eye and to determine the size and other measurements of any potential problems.
Specially designed ultrasound scanning techniques can be used in the diagnosis of ocular tumours and can help the specialist differentiate between the different types of tissues in the eye and the formation of blood vessels. It also helps to determine the size and consistency of any noticeable tumours.
There are also a few other highly specialised tests that may be carried out depending on the suspected location of the tumour, for instance measuring the thickness of the retina.
As with all forms of tumour, the initial stages of growth may offer no obvious symptoms and we may carry on as normal unaware that something potentially very serious is going on. This explains why it is so important to have regular eye checks and know how our eyes look and feel when they are healthy so we have the best chance of knowing when any changes have occurred and an early diagnosis and treatment plan can begin.
You might also like...