Support for People With Eye Cancer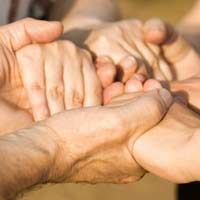 Many people who are diagnosed with eye cancer find out quite early that they have a non-aggressive form of the disease and their chance of making a full recovery is very high. In these instances, the individuals often decide that they are quite happy to receive their treatment without requiring any external support as long as they are satisfied with the care they receive whilst undergoing treatment. This is fine and suits these people well but for others the story may be different.
Being told you have a tumour can be extremely frightening especially if you are unsure of the incidence, treatment and outlook and this can cause panic in even the most calm of people. Along with this the prospect of surgery, radiotherapy, chemotherapy or even losing the eye itself can be terrifying, and whilst your doctors and nurses can do all they can while you are in their care, you may need some extra support at home.
Finding Support In Your Area
Most regions will have some form of support for anyone with cancer and many areas will have groups or places where you can find more information specifically on the subject of eye cancer.
Ask your GP or practice nurse for any groups going on in your area as they often known exactly where to look to find out this information. Alternatively, the clinical department in which you have any treatment for your cancer can usually provide a wealth of knowledge about support groups and places you can go to gather more information.
If there are no support groups for eye cancer in your area, why not use this opportunity to get together with a few other people who are having treatment and start your own group? It is likely that there are many others in the area who would be grateful to someone for starting such a group.
Where To Find More Information
The Internet can be an excellent source of information that can be accessed easily and cheaply allowing the reader to take in the information at their own pace and at different levels of terminology and knowledge. It can however have as lightly negative effect as it is not regulated and it cannot be guaranteed that all information is correct. There is also the possibility of finding out too much information and becoming frightened at other people's stories and experiences which can be off putting for the reader if they are in the early stages of treatment.
That said, the Internet can be good for finding out the telephone numbers and contact details of many nationally recognised support groups for cancer and can allow the person to network with other like-minded people whilst being in their own home.
Helping A Family Member Through Eye Cancer
It can be devastating finding out that a family member or friend has eye cancer but there are ways of making it easier whilst also supporting the person with the condition too.
Try and do a little background reading on the subject so that you know what to expect, the possibilities and the sorts of therapies that your friend or family may have to face.
Why not go with them to their appointments if they would like, or perhaps they may want some privacy and space in which case you can provide this and be discreet around others.
Let them know that you are there to help them whenever they need and understand that this is a difficult time for them so if they want to handle it their own way, then that is OK but you will worry about them.
Eye cancer can be a frightening prospect but if it is caught early the long term prospects are good. Support is available for those who want it and can often be accessed by speaking to your nurse or doctor.
You might also like...