Using Drops and Ointments for Your Eyes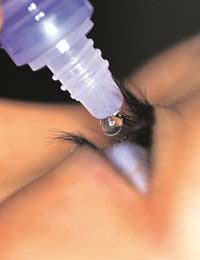 Eye drops and ointments are generally used to treat minor eye problems or conditions. However, eye drops are also prescribed for serious eye conditions such as glaucoma. If you have glaucoma and have been advised by your optician or eye specialist to use eye drops it is imperative that you continue to use them as the condition will worsen if you stop. Always follow the advice of your optician or eye specialist when taking eye drops or ointment. They will tell you exactly how to administer the treatment how often and when to return for a check up.
Eye ointments can also be prescribed for a range of eye problems. Rather than take eye drops, some people prefer to use an eye ointment. Lubricating ointments for conditions such as dry eye, work in the same way as lubricating eye drops but are often more beneficial for treating the condition overnight.
Eye Drops for Glaucoma
Chronic glaucoma is one of the main types of the condition. For chronic glaucoma eye drops are usually prescribed to begin with. The drops will reduce the amount of liquid in the eye and improve drainage. It is imperative that patients continue to use the eye drops every day even if their vision seems good. A patient's sight may appear normal but it could be getting worse without them noticing.
According to the RNIB, many patients with glaucoma often stop taking the eye drops because they believe the glaucoma is under control. However if a patient doesn't continue to use the eye drops their sight may become gradually worse and they could lose their sight. Once their eyesight has deteriorated it is not possible to restore it, so prevention and limiting the damage is crucial. A recent report by the RNIB found that over 200,000 people in the UK are needlessly going blind because they have glaucoma. However taking eye drops every day will prevent blindness. Over 10% of people who are registered blind or partially sighted have glaucoma.
Eye Drops for Other Eye Problems
Keratoconus is another serious eye condition which will often be treated or controlled by eye drops. If swelling develops in the eye, then drops will be prescribed to ease the symptoms but this only provides temporary relief. There are no medications to stop the condition from developing further.
Eye drops may be recommended for many other eye problems such as hay fever, allergies and infections such as conjunctivitis. Most cases of conjunctivitis can be treated with eye drops. Antibiotic eye drops will be needed for infectious conjunctivitis. If the condition is caused by a virus then it can only be fought off by the body's immune system. Eye drops will only relieve the symptoms and will not treat the condition.
If you suffer from dry eye, lubricating eye drops will help to soothe the irritation and provide immediate relief. However some eye drops contain a preservative which some people may be allergic to. If they do cause an irritation then you can get a prescription from the hospital pharmacy for a preservative free medication. There are also lubricant ointments available which are particularly helpful at night.
If your eyes are dry because you have hay fever or an allergy, lubricating eye drops are also useful to ease the symptoms. However, always seek professional advice from your optician or GP before using lubricating eye drops.
It is common to have eye drops after laser treatment or eye surgery such as cataract surgery. Drops are used to prevent infection in the eye after an operation.
You might also like...
I had eye urgery and iin cthe post=opcpak wasMAXIDEX(dexamethasone) drops by ALCON LABS Two days later I was BLIND Us Google and enterMAXIDEXLSS OF VISIONto verify or call800-757-9195
MAXIDEX DEXAMETHA
- 4-May-13 @ 12:21 AM