Nystagmus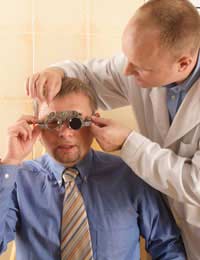 Nystagmus is a disorder of the eye that can lead to visual loss, sometimes even virtual blindness.
It is characterised by involuntary movements of the eye, most often causing the eye to move side to side, but in some cases up and down and more rarely in a circular fashion.
If diagnosed in childhood, the person can often adapt quite easily to the condition but for those diagnosed later in life, the effects can be very disruptive to every day life and can be come quite difficult to live with.
What Causes Nystagmus?
Nystagmus can be diagnosed very early in childhood and is thought to be caused by a problem in communication between the brain the eye, or as a result of another condition such as glaucoma, cataracts or some retinal conditions. It is also possible for the condition to be inherited and in this instance the actual and initial cause may remain unknown.
If a child has been diagnosed early on with this complaint, it is often beneficial to them to provide them with as much information as possible, told in the right type of language aimed at the right level of comprehension, to allow them to understand the problem.
For those who are diagnosed later in life, it can be an indication of a more serious health problem as it has been associated with neurological conditions, stroke or even because of a trauma to the head.
Signs and Symptoms
Nystagmus that has a sudden onset may often be due to a blow to the head and the cause will be quite obvious, for others they may not be aware initially of the problem and will only notice after some else has witnessed the involuntary eye movements or because their sight is failing. Many people with nystagmus will become short sighted, often so much so that sight can become significantly compromised.The severity and speed of deterioration of the condition will depend of the cause of the nystagmus, if it is diagnosed in early childhood it tends to remain stable and not deteriorate very quickly, if at all.
It is very important to acquire an accurate diagnosis by a trained professional as soon as any symptoms are experienced as any underlying conditions will need diagnosing and treating as soon as possible.
Treatment Options
Although nystagmus cannot be cured, there are a range of options available to help treat the symptoms. Glasses, contact lenses and other visual aids may be beneficial to the sufferer and help correct the long or short sightedness.
Very occasionally surgery may be recommended to help and adjust the position of the muscles of the eye, though this may not cure the problem altogether.
Experts are currently investigating the options of trying to retrain the eye by finding ways of allowing the person to become more controlled over the problem and try and re-establish power and control over the movements.
It is most important however to find out the underlying cause of the condition and treat this as soon as possible and as effectively as possible as it may be caused by a life threatening condition.
Nystagmus is not a contagious problem and cannot be transmitted in anyway, it is not caused by infections or viruses but is potentially dangerous until the cause of the complaint is discovered and managed.
You might also like...