Eye Melanoma: What is It?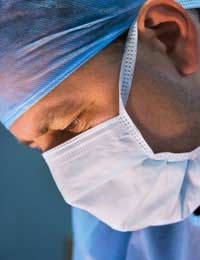 Eye melanoma is both a rare form of eye cancer and a rare form of melanoma. There are only around 500 cases diagnosed in the UK each year. This type of cancer usually develops from the melanocytes in the skin. These cells are also present in some of the layers of the eye – in the conjunctiva, the uveal tract and the ciliary body. Cancers that form in specific sites are sub classified as conjunctival melanomas or uveal melanomas.
People who are very fair skinned and who have very blue eyes but have a lot of skin moles are more at risk of developing eye melanoma than people with other colouring and skin types. The main risk factor for the development of eye melanoma is exposure to the Sun, so if you have skin like this, the best advice is to stay away from sunbathing and to always wear sunglasses that protect against the effects of ultraviolet light.
Diagnosing Eye Melanoma
Diagnosis of eye melanoma, which can also be called ocular melanoma, is quite tricky. The symptoms are fairly non specific and include slight blurring of the vision, seeing shadows that are not really there, and having a sensation of sudden flashing lights. These occur because the eye responds to the presence of the tumour by trying to mount an immune response to it. The resulting swelling and fluid leakage can cause the layers of the retina to start to split apart, and can cause part of the retinal to actually start to detach.
These symptoms may prompt someone to visit an optician for a check up and the eye melanoma becomes obvious when the investigating optician looks at the eye with an ophthalmoscope. A biopsy is usually taken to remove a few cells to examine them for cancerous changes before a definite diagnosis is made. This sounds like a major procedure but only a handful of cells are needed and most people find this a painful process.
Treatment Options for Eye Melanoma
Eye melanoma needs to be treated urgently before the cancer cells spread to other parts of the body – a process known as metastasis. If this happens, small tumours can develop elsewhere and then the cancer becomes much more difficult to treat and survival rates are lower. Radiotherapy can be successful if the melanoma is identified in its early stages. External beam radiotherapy from a cyclotron can be focused onto the area of the tumour. Internal plaque radiotherapy in which a small radioactive implant is placed in the eye, directly next to the eye melanoma, can also be used.
If the eye tumour has advanced and is in greater danger of spreading, surgery may be the best treatment option. Surgeons try to carry out eye-sparing surgery as much as possible, taking away the tumour and as little normal tissue as is safe. Sometimes, the best chance of survival is by having an enucleation, or eye removal operation. The entire orbit of the eye is taken away, and a prosthetic eye, a false eye, is inserted into the space. These look remarkably realistic and are one of the most successful prostheses available.
In very rare cases, more of the eye tissue, including the eyelids and skin around the eye also needs to be removed. This is a bespoke operation and needs careful reconstructive plastic surgery afterwards, with special eyelid prostheses as well as a false eye.
EYE HELP IS FOR SALE.
This website is for sale [more info].
You might also like...