Teaching Children About Eye Health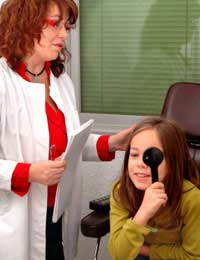 It is important to teach children about looking after their sight, as it is the one sense we take for granted. Good eye sight is crucial for a child's development and is important so that they can learn at school and interact with other people.
If a child has had a problem with their eyes from an early age they will think that their sight is normal. They will have nothing to compare their sight to, so if they are struggling to see things in the distance or cannot see colours, they may not complain. Encourage your child to communicate any problems such as headaches or the need to sit at the front of the class. If you notice that they rub their eyes a lot or always sit close to the TV, then there could be a problem with their sight. They may also find it hard to concentrate when they are doing their homework. If they are easily distracted it is worth having their eyes checked out to rule out any problems with their eyes.
Teach your child about taking breaks from activities which require concentration. Ensure they take a rest from doing their homework, using the computer or reading. Although it has not been proven that using computers or doing other close work activities for a long period of time can cause sight problems, they can lead to tired, red or sore eyes.
Regular Check Ups
It is common for parents or guardians to take their child to the dentist for regular check ups, yet many do not take their child to visit the optician for an eye test. Every child under the age of 16 is entitled to a free NHS sight test every year. If a child learns that it is important to have regular check up to look after your eyes then they are more likely to continue visiting the optician in their adult life. Eye tests are important not only to check your vision but to pick up the early signs of eye disease and possibly other health problems as well.
Sunglasses
Always make sure your child wears sunglasses in the sun to protect their eyes from sun damage. Research has shown that over-exposure to the sun's ultraviolet (UV) rays can increase the risk of developing cataracts, age-related macular degeneration and ocular melanoma (eye cancer).
Glasses and Contact Lenses
If your child has to wear glasses there are many types to choose from. The NHS glasses many adults will remember from when they were at school are long gone. Some children are put off from wearing glasses but these days glasses are often a fashion accessory so they should be encouraged to think of glasses as making them look stylish not just to help them see. Encourage your child to choose a pair that they like and will feel good about wearing. Children are entitled to a voucher to help with paying for glasses. There are glasses available within the voucher value but you can also use them towards the cost of other pairs.
Diet
There is now greater recognition of the role nutrition plays in eye health. Children are often told to eat their carrots so they can see in the dark but this is only an old wives tale. Greens are more important for their sight development. Some fruit and vegetables contain antioxidants called lutein and zeaxanthin which could help protect against eye health problems. Encourage them to eat plenty of broccoli, oranges, peas, kiwi fruits, mangoes, sweetcorn, grapes and spinach to help keep their eyes healthy.
You might also like...
Hi my great nephew has albanism in his eyes so he ned to go to opticians at hospital unforunately he has autism tendences so he will not sit to get test but he likes to copyhis cartoons on dvd so i am having trouble locating a dvd showin a child getting an eye test can anyone help
anniemac
- 11-Nov-11 @ 10:51 AM