Living with Low Vision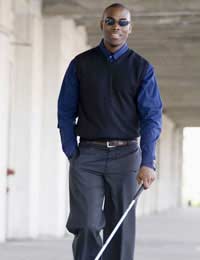 There are many misconceptions out there about people who have poor vision. Blind people generally have some vision and some people who do not look blind may have more serious visual problems. Not everyone who has a visual impairment will carry a white stick and very few blind people will have a guide dog. Sight loss can affect anyone of any age but the majority of people with sight problems are older people.
Finding out that you have an eye condition and your sight is deteriorating can be a very traumatic experience. Some people take years to accept that they will have to live with sight loss for the rest of their life whilst others continue to take part in all the activities they did previously. Everybody's level of vision is different.
Getting the right help when a person is ready to be helped is crucial. If you have a sight problem, you are entitled to a 'community care assessment' from social services. You can be referred to social services by your hospital eye clinic, your optician or your GP. A number of low vision services are also provided by the voluntary sector.
Home Visiting Service
If you also have mobility problems and are unable to get to a low vision service in the community, there are volunteers who will come out to your home. They will help you with reading and writing correspondence, reading, shopping or simply to offer emotional support. Your local social services will be able to refer you to the Home Visiting Service.
Low Vision Aids
There is a huge range of aids available to assist people in their own homes, many of which can be loaned from the low vision service or purchased.
Low vision aids such as magnifiers, talking clocks, hot water level indicators and white sticks are available on loan from the hospital eye clinic and social services. A rehabilitation officer will teach you how to use the aids and may visit you at home to ensure you are using them correctly and safely.
Rehabilitation and Mobility Training
A rehabilitation officer will assist visually impaired people with getting around. They will teach you how to use a white stick and how to find your way to other services such as the post office or the shops. It can several weeks to learn a route but they will ensure you can get from A to B safely.
Driving
You may still be able to drive depending on how severe your sight loss is. To assess your peripheral vision you will need to pass a special test to check that your vision meets the standards of the Driver and Vehicle Licensing Authority.
Registering Blind or Partially Sighted
Registration is voluntary and you do not have to be registered to get help from your social services department. Some people do not want to register as blind or partially sighted because they believe there is a stigma attached to being registered. But if a person is registered they may be entitled to certain benefits which could prove to be a big help if they are unable to work.
Your consultant ophthalmologist will be able to arrange for you to be registered if you are partially sighted or blind. They will complete a certificate of vision impairment. If you are not currently attending a hospital eye clinic then your GP or optician will be able to refer you.
You might also like...